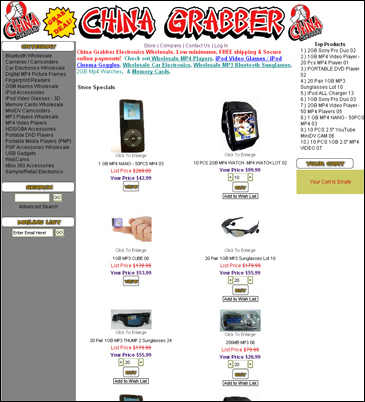 China Grabber conducts thorough screenings of the Chinese factories and electronics suppliers before we list any of their products on our site
Portland, OR (PRWEB) October 30, 2006 –
Figures on wholesale consumer electronics imported directly to United States consumers from China are expected to be strong for the 2006 holiday shopping season. Many US shoppers are finding huge discounts online from China-based websites that offer consumer electronics wholesale from Chinese manufacturers. However, there are significant numbers of consumers who shy away from the low price opportunities due to fears of difficulties from working with non-US based companies. A new wholesale consumer electronics importer, China Grabber, is hoping to attract a big piece of this market by offering the same popular items and low prices through a business based in Portland, Oregon.
China Grabber is already seeing strong sales for the holiday season from their selection of wholesale mp3 players and mp4 players made in China. CEO Tunde Sosanya says the online catalog at ChinaGrabber.com typically gets between two and three million hits each month, but the volume is expected to increase dramatically towards the end of the year.
He explains, "We are getting pumped up for this upcoming holiday shopping season and Spring buying seasons. There are several other B2B sites which carry Chinese electronics, but many people in the wholesale industry don't just want to be linked up with an overseas supplier. They want to know that their money is going to get them exactly what they ordered."
Other online importers such as Alibaba.com and GlobalSources.com offer similar stocks of consumer electronics wholesale and lower prices than can be found at retail in the United States, but because they are based overseas, several US-based consumer electronics wholesale traders who operate on eBay and other auction sites have been hesitant to rely on them.
Sosanya says that all of the items listed on China Grabber are brought in directly from their Chinese manufacturers and that all communications with those companies are conducted in-house. "China Grabber conducts thorough screenings of the Chinese factories and electronics suppliers before we list any of their products on our site," he explains. "We also have virtually no ordering minimums on the best selling electronics, and we feature simple online payment in US dollars."
China Grabber is currently listing more than 800 unique items, many of which are available in an assortment of colors and sizes. Their inventory depth of wholesale items from China is expected to experience tremendous growth in coming months.
To purchase consumer electronics wholesale from a US-based importer, with stock including the latest mp3 and mp4 players made in China, please visit ChinaGrabber.com.
About ChinaGrabber.com:
China Grabber is a US-based online consumer electronics wholesaler. Their customers will experience reliable, simple online payments and prompt shipping on a huge selection of the most in-demand electronics items, including a wide array of discount priced mp3 and mp4 players. China Grabber is an ideal resource for distributors, wholesalers and eBay sellers.
###