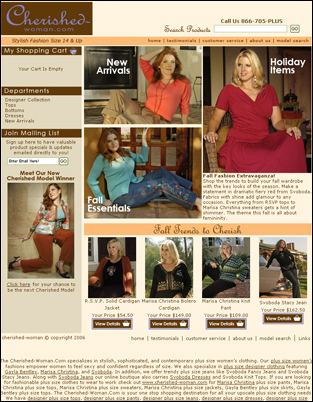 The majority of plus size e-retailers use mannequins or thin models, which makes it difficult to see what the clothes look like on a woman with real curves
Aliso Viejo, CA (PRWEB) October 30, 2006
High fashion appears to be heeding the call for trendy clothes for plus size women. A recent episode of "Project Runway" even tipped a hat to the "everyday woman" with a challenge to contestants to make clothes for the decidedly curvier family members of fellow designers.
But, one plus size fashion maven is taking her own "real woman" approach a step further. Remarkably, part of the focus of her site, Cherished-Woman.com, is the continual search for the next fresh face to model her selection of plus size designer clothes.
"The majority of plus size e-retailers use mannequins or thin models, which makes it difficult to see what the clothes look like on a woman with real curves," said owner and president Nancy Baum, who is herself a former plus size model. In sharp contrast to other fashion hubs, her site includes a page on which would-be models can apply to be the newest spokesmodel for her sexy plus size clothes.
Baum is using her fashion background and 14 years' experience in Internet Web application sales to launch an online retail venture offering trendy clothes for plus size women who expect to be as sexy and fashionable as their slender peers.
"When I started modeling in the early '90s, the selection of plus size womens apparel was limited to moo-moos and shapeless tops and bottoms," Baum said. "Today, the plus size customer is demanding the same styles as her thinner counterparts. More and more designers are realizing this now and are designing some-- really giving the plus size woman some stylish and sophisticated options."
Baum said she travels the globe to find sexy plus size clothes and meet designers who cater to plus size women. The best discoveries end up in her collection.
"Cherished-Woman.com's goal is to provide one-stop shopping for the curvy girl with discriminating tastes," Baum said. "You won't find our plus size designer clothes in your local mall or other online stores. Our merchandise is fresh, new and exciting."
About Cherished-Woman.com:
Cherished-Woman.com, an Internet retailer specializing in trendy clothes for plus size women, was founded by former plus size model and entrepreneur Nancy Baum. The online boutique features high-end, designer plus size fashion aimed at bringing out the natural sex appeal of the modern woman, no matter what her dimensions. Cherished-Woman.com's collection of plus size designer clothes includes plus size sweaters and blouses and plus size pants, including sexy, slimming Svoboda jeans and designs by Marisa Christina-- with many more exciting designers lined up for Spring 2007.
###