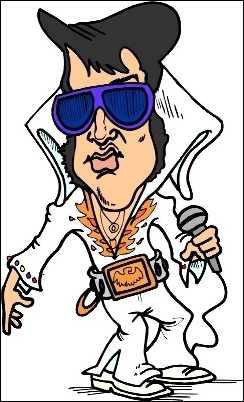 Los Angeles/New York (PRWEB) October 30, 2006
Surprise, we fooled you. Just when it seemed Elvis was really dead... Holy Mackerel, Faster than a speeding bullet, like a Rock 'n Roll Whirlwind from outer space comes John Krondes and The Elvis "Hit Making Team" to the rescue. As the old wives tales say, when people least expect it magic and miracles once in a blue moon come to life.
That's exactly right fans, somewhere out there in the Twilight Zone, in the vast galaxy, with the Blue Moon, UFO's and "Rock 'n Roll Heaven" has come the order to "Save The Music" and "Keep The Dream Alive". Elvis didn't really leave us, you all knew he'd be back, it took 29 years but the metaphysical forces and the Rock 'n Roll Angels took him home again. Elvis and his life were about the music, and the one thing we can explain is that if Elvis was meant to live again, it is surely to save the planet through the message of song.
Well folks, we can't really explain this wonder story any better than Y'all. Its kind of like Men are from Mars and Women are from Venus. Some things like your Dad told you, you'll never understand, just like this supranatural Fairy Tale story of John Krondes and Elvis "Hit Making Team". Over the rainbow, what the little birdie told us is that Elvis is back now, his heart and soul beating in the bass drum of D.J. Fontana, Ronnie Tutt and Gene Chrisman. Yes it's true, the three wise men, all three of Elvis' main drummers are back carrying the beat with singer/songwriter John Krondes and just about all of Elvis Presley's "Original" music entourage. The Magic of Elvis' Music Is Back and he lives and breathes again in the souls of John Krondes and the "Hit Making Team". Many radio stations in the U.S. are still in shock as they are all receiving over the next few weeks the first commercial release; a brand new recording with Elvis Presley's "Hit Team" Rockin' with John Krondes, a definite first in nearly 30 years.
The phenomenon began in 2000 with the Jordanaires (Elvis' primary Back-Up Group) harmonizing with singer John Krondes on his Dad's song "The End", that Elvis sang to his future wife Priscilla on the night they met in Germany. Fatefully, the rest of Elvis' music entourage has one by one joined this very powerful "Hit Team" over the last two years. In the Honor and Spirit of Elvis, the "Hit Team" consists of Elvis Presley's Memphis Studio Band "The Memphis Boys", the TCB Band, Elvis first Drummer DJ Fontana, the Jordanaires, Imperials, Sweet Inspirations, Millie Kirkham, original former members of the Elvis Stamps Quartet, Elvis' Horn Section, along with original composers, arrangers, producers and other players that worked with the King. The unanimous vote of fans around the world has elected Elvis' Best Friend, Joe Esposito as Chairman of the "Hit Making Team".
When Dreams Come True, it kind of goes like this... Elvis Presley's last recording was on a vocal overdub on "He'll Have To Go" recorded in the Jungle Room at Graceland October 31, 1976. Moody Blue, was Elvis' last released album just two months before he died on August 16, 1977. Now figure this, nearly 30 years to the day Elvis made his last recording, amazingly his beloved "Hit Team" has just hit the streets with its first new commercial release. "You Only Hear What You Want To Hear" by John Krondes and the "Hit Making Team" will hit pretty much every U.S. radio station by the end of November 2006. It was 37 years ago in 1969 that Elvis last scored a #1 Hit, "Suspicious Minds" in the U.S. Astonishingly, the very same Elvis Band that recorded that song, the American Studios Band ("The Memphis Boys") are back out of left field with D.J. Fontana, the Imperials, Jordanaires, Millie Kirkham and Elvis' Horns on a powerful new record with John Krondes.
Live the Dream Fans. Tune in to Donn Webb's "Cruisin' 66" on KDSK.com this Friday, November 3, 2006 at 2pm Mountain Time. KDSK Radio, based in the Albuquerque, New Mexico market will officially break the new "Hit Team" single on its worldwide broadcast over the next few weeks. Celebrating the historical comeback of the Presley "Hit Making Team", KDSK will feature Imperials vocalist Terry Blackwood, along with Saxophonist Gary Herbig, John Krondes, Elvis Composer's Paul Evans & Paul Parnes, and Elvis Fan Club President Bruno Pause of Italy. Fans will be able to instantaneously Download and own a copy of this History Making Release by going on the Web to I-Tunes and new music giant Burnlounge.com; it is now being ingested and will be available sometime over the next few weeks. Additionally, In the following few weeks, "You Only Hear What You Want To Hear" will be available on most major Internet Music Sites including Amazon.com.
Supremely, "You Only Hear What You Want To Hear" is the first commercial release by the congregate Elvis Presley "Hit Team" since the death of Elvis in 1977. For the fans that have endured the horrible songless nightmare for 29 Years, rejoice and praise, for this is the First Spring and New Day. On this New Day in Rock 'n Roll, the legacy of Elvis continues and the magic is back.
Funky Sound of America
Rock 'n Roll News Desk
###