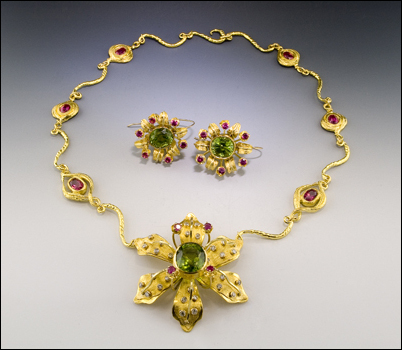 I always loved creating things that were beyond imagination
New York, New York (PRWEB) October 30, 2006
Suz Andreasen, well known for ownership of her first brand Women Want Jewelry, (womenwantjewerlry.com) and her dazzling high end gems featuring rare and unique stones has launched her own signature line and website Suz Andreasen American Couture Jewelry Designer or, suzandreasen.com
While Andreasen's work can be found at Saks and on Amazon.com, this new collection - designed and created by the hands of Suz Andreasen can only be rivaled by the likes of JAR or Cartier. Andreasen's work is coveted by some of today's top celebrities including Oprah Winfrey, Hillary Clinton and HRH Princess Mathilda of Belgium. Andreasen ought to know how ingenuity happens - growing up with an inventor father, she learned at a young age how to set herself apart from the crowd. "I always loved creating things that were beyond imagination," she says sitting in her jewelry studio on Manhattan's upper west side. "When I was doing the wedding of the Ambassador to New Zealand, I had to use their colors of blue and white. So, I used all Sapphires and Pearls. It was outrageous but also drop dead beautiful!"
Suz Andreasen was born in Iowa in 1964, the fourth generation in a family of inventors and scientists tracing back to 1890. Andreasen began her interest in metalsmithing alongside her father, the Late George Andreasen, noted for his invention of memory wire. Suz studied metalsmithing for many years before receiving recognition among private collectors and shows at galleries, expositions and institutions throughout the United States. Her current work is expressionist in both form and content. Andreasen constructs her work 22 Karat gold using traditional milling and fabricating techniques. She uses patterning and alloy stains to contrast areas of intense gold with vibrant placement of gemstones.
Andreasen was also recently inducted in the American Craft Council's prestigious Mentor Program and will be exhibiting at the Craft council show in February in Baltimore Maryland. Her high carat gold, (she works only in 22k for her couture collection) is her own special patent blend and the shimmering color combined with rare gemstones make Hollywood insiders claim her as their best kept secret.
###