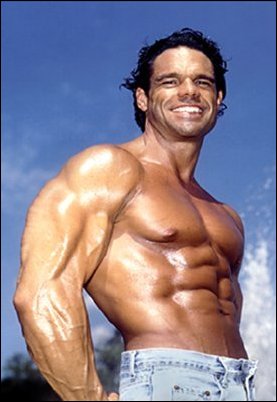 Marlboro, NJ (PRWEB) October 31, 2006
Fitness Expert and natural bodybuilder Paul Burke says that his new book, Burke's Law A New Fitness Paradigm for the Mature Male (Trafford: 2006) is so unique in so many ways that people such as Dr. Barry Sears (Of "The Zone" fame) are calling the book "masterful," while National Power-lifting Champion,Steve Cardillo (the Reebok "Pump" belt Inventor) calls Burke a "genius and the most multi-talented man he has ever met"
"My book goes about explaining the origins of both weight training and fitness, and the nutritional habits of ancient and modern people." "These areas of study set my book apart from your average fitness training book," Burke concludes.
"Secondly, Burke says, "My book devises a unique training strategy for what I call reaching Maximum Muscular Stimulation." "The meaning of this is spelled out in the book, but in a short phrase here we can specifically call it; a way to reach the ultimate place in which you are assured to make your muscles become stimulated the safest, quickest way, without injury," says Burke.
"Third, says the natural bodybuilder who looks no more than 38 years old facially, "The book then goes into detail as to how each person measures specific areas of their body that will point them to certain exercises that I call leverage advantageous exercises, all based on ones muscular-skeletal system." "Every person should have a very different exercise routine because we are all so different from muscular-skeletal variables, to lengths and girths of muscle bellies and joints, on to the bio-mechanical determination that each person gets help making with my book." "It totally opens up your mind to a place few people dare to go," Burke says with a fiery confidence.
"Once that one has identified the most leverage advantageous exercises for each muscle group," Burke continues, "and one is creating MMS; then they must follow the diet guidelines laid out in the book." "These are not strict or restricting type diet regimes, per se; rather, they are set forth so that each person will know why they are eating what they should be eating, and it is very mathematically driven and systematically allows each person to devise their own diet under the guidelines and parameters set forth." "I give the reader a long history of what our greatest ancestors ate and how we became omnivores and plant and animal domesticators."
"Lastly, Burke says, "The individual must read the book with the intent that they will follow the guidelines of how to build their body with various healthy techniques written in the book in order to maintain a healthy body for many years." "I end the book by taking about "andropause," and what to do about it if you, as an aging man are getting negative effects from this phase when men begin loosing, often times, too much testosterone." "It has been proven and is written about in a recent Study of the "New England Journal of Medicine" that low testosterone can cause prostate cancer."
When asked about the driving force for writing the book, Burke really sums it up, saying, "I really believe that I have a unique way of looking at the body and I believe that comes from being a person who roamed the world looking for answers," the massive but intellectual bodybuilder says. "I truly believe that you should have brought something new to the world when you write a book and I believe I accomplished that task." "I also believe," Burke concludes, "that, like life itself, everything is a revolving door, a circle if you will, and I am coming out of that revolving stage into the stage where I give some tools and personal wisdom for those who are about to go into that door to find what lie on the other side. "Life is about taking calculated risks and then giving back what you have learned, and I believe that I have learned a lot in these 51 years; otherwise, as a great Native American Shaman once told Burke, "A life without exploration, adventure and nightly contemplation is a life not well lived." One Thomas Merton could have said those very words himself.
"Burke's Law," A New Fitness Paradigm for the Mature Male, can be bought at most major online book stores; http://www.amazon.com, http://www.Barnes&noble.com , http://www.trafford.com/05-1850, http://www.borders.com
To see Paul's web-site and reach him by e-mail, go to: http://www.paulburkefitness.com
IMPORTANT: "BURKE'S LAW" THE VIDEO will be coming out soon. Watch for it at Paul's website and other online stores that carry his book. Watch Paul train his unique way and explain how to optimize your body.
###