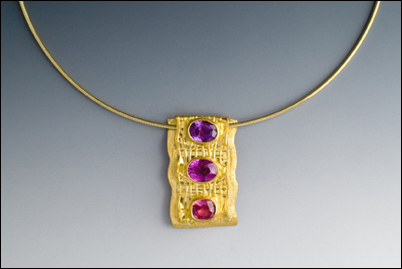 I believe that art should be so utterly beautiful that it makes your eyes hurt when you look at it.
New York, NY (PRWEB) November 3, 2006
Suz Andreasen, well known for ownership of her first brand Women Want Jewelry, (womenwantjewerlry.com) and her dazzling high end gems featuring rare and unique stones has launched her own signature line and website: Suz Andreasen Couture, or suzandreasen.com.
She will be showing this collection at the American Craft Council in Baltimore in February 2007. This is a leap for the already known American designer who opened her Internet jewelry hub and brand Women Want Jewelry seven years ago. Women Want Jewelry took off as a destination for the everyday woman, where jewelry is fun, interesting and always fresh. While Andreasen's work can be found at Saks and on Amazon.com, this new collection - designed and created by the hands of Suz Andreasen is deisgned to make jewelry collectors sit up and take notice. In her work, we clearly see a return to stunning old world craftsmanship, harkening back to Faberge, Boucheron and Lalique.
Andreasen's work is coveted by some of today's top celebrities, and while Suz stays away from the limelight, her clientelle includes commissions for some of New York's oldest families like the Rockefellars and the Goulds. Her collection was also recently on exhibit during New York's Fall Fashion for the AGTA Sepctrum Awards at the elite Ramscale Penthouse where New York's Society Crowd viewed the spectacular jewels during a rip roaring cocktail event to benefit Project Renewal.
Andreasen spends a great deal of time creating these amazing baubles because of the high demand for her work, but also Suz feels that to be a great artist, one has to embrace risk.She wants her clients to have museum pieces and that requires time and discipline.
"I am a little like Andy Dufresne from Shawshank Redemption. I believe in the impossible," she says. "I believe that art should be so utterly beautiful that it makes your eyes hurt when you look at it." Her high carat gold, (she works only in 22k for her couture collection) is her own special patent blend and the new line, which will be unveiled in Baltimore includes Andreasen's love of the ocean and natural forms. The shimmering color combined with her use of rare gemstones can be seen on the ears of A-listers all over town.
CONTACT INFORMATION
Anne Sophie Rodriguez
Suz Andreasen Couture
917-620-5175
# # #