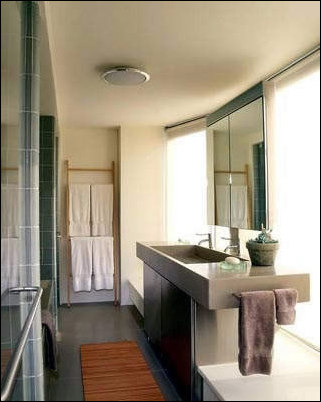 Yucaipa, CA (PRWEB) November 1, 2006
The Concrete Network, the largest and most comprehensive source for concrete information, offers an extensive online bathroom fixtures photo gallery. Filled with a multitude of design ideas, this photo gallery provides ideas on enhancing and beautifying the bathrooms of your home or office just in time for the holidays using extraordinary decorative concrete fixtures, such as countertops, sinks, vanities and more.
Many homeowners and designers are finding that concrete fixtures are a perfect fit for achieving a distinctive-looking bathroom. Because concrete can be poured to shape any form, concrete fits the bill for any type of sink imaginable above-the-counter vessel sinks, pedestal sinks, bowl sinks. Whether it's square, rectangular, oval, or round, integral, concrete can be shaped to blend into any bathroom décor and style.
There are three commonly used types of sinks to choose from. They include pedestal, vessels and integral sinks, each with their own features and design possibilities. More and more architectural concrete companies are offering their own sink lines.
The concrete photo gallery is updated every Friday offering new photos of custom and unique designs and applications. Photos for the photo gallery have been collected from contractors around the United States and Canada and are for design idea purposes only.
Established in 1999, The Concrete Network's purpose is to educate consumers, builders, and contractors on popular decorative techniques and applications including stamped concrete, stained concrete floors, concrete countertops, polished concrete, and much more. Over 872,000 visitors researched The Concrete Network Web site in June, 2006.
The site excels at connecting buyers with local contractors in their area through its Find-A-Contractor service. The service provides visitors with a list of decorative concrete contractors throughout the U.S. and Canada, and is fully searchable by 22 types of decorative concrete work and 199 metropolitan areas throughout North America.
News image courtesy of Buddy Rhodes Studios. Attached photo courtesy of Silvermine Workshop.
###