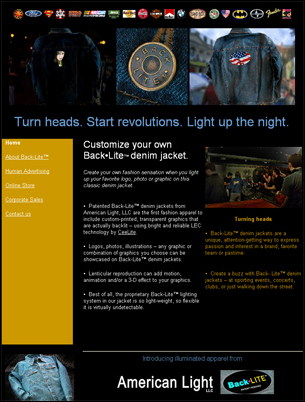 Cape Coral, FL (PRWEB) November 1, 2006
Competition in print, radio and television advertising has been at a fever pitch for decades, which has compelled brand advertisers to always be on the lookout for new media venues to break through the clutter and generate buzz. The latest unique marketing idea to make its debut is the Back-Lite jacket, an innovative twist on corporate logo apparel from American Light LLC. These classic stone washed denim jackets are equipped with thin, flexible light panels on their backs, which illuminate interchangeable images that catch the eye and create a memorable impact.
Developed by Back-Lite LLC together with the visionary Custom Lighting industry leader CeeLite, the light panels, used in the Back-Lite jackets, produce no heat and use little energy. The light panels provide more than 100 hours of illumination, powered by three AA batteries, contained in a small battery pack that is conveniently and comfortably concealed. The nicely detailed denim jackets illuminate interchangeable transparencies, allowing for an unlimited range of logos, images, graphic designs, and photographs. Custom printed transparencies can be obtained directly from the Back-Lite website or printed on standard computer printers using inexpensive and easily obtained, transparency film and Back-Lite's free templates.
The new Back-Lite technology is a ground-breaking marketing tool that has already been pounced upon by on-site promotion teams seeking to bolster their brand-building efforts. Because the brightly, illuminated graphics are so eye-catching in environments such as concerts, nightclubs, bars and night time sporting events, the Back-Lite jackets make a more effective corporate logo apparel choice than ordinary imprinted T-shirts or embroidered jackets. These are the same types of entertainment-intensive venues that are currently the most frequently visited by brand promotions teams, creating vast new marketing and awareness-building opportunities.
Gary D. Shaffer, President of American Light, says that the provision of illuminated interchangeable graphics is what makes the Back-Lite jacket truly different and advantageous for retailer and marketer alike. He explains, "The Back-Lite jackets take the imprint sportswear industry into the 21st century and beyond by creating products that allow the retailer and end user to change the graphic aspects of a garment in a few seconds. Where the industry was once limited to static screen printed, embroidered, appliquéd and embossed graphics, there now can be interchangeable back-lighted standard and lenticular graphics without limitations."
While advertisers appreciate the Back-Lite jackets for their ability to transform their street teams into compelling human billboards as part of their guerrilla marketing strategies, everyday consumers love them just as much. American Light LLC expects the Back-Lite jackets to make wonderful and personal gift ideas for the upcoming holiday season.
To see more of the most eye-catching illuminated corporate logo apparel and get in on the newest unique marketing idea, please visit Back-Lite.com.
About Back-Lite:
Back-Lite's innovative denim jackets (patent pending), from American Light LLC, employ CeeLite LEC lighting technology to illuminate interchangeable, graphic transparencies that can be used to display any logo, design or photo in a brilliantly clear and eye-catching presentation. Back-Lite jackets are ideal for street teams, promoting brand awareness, for introducing new products, to bring attention to political candidates, for sports fans supporting their favorite teams, or giving as personalized gifts. Back-Lite jackets are only limited by your imagination.
###