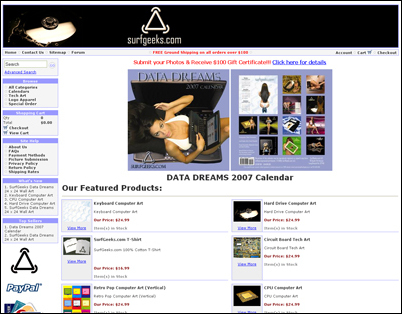 Of the 15 million listed networking and computer professionals worldwide, 83 percent of them are males
Long Branch, NJ (PRWEB) November 1, 2006
Even to technology experts, all circuit boards, chips and computer components start to look the same after a while. That's why Robert G. Hermansen Jr., owner of the New Jersey based network consulting and web design firm Pure Energy Concepts, Inc., started scouring the Internet and local malls in search of tech-centric art and calendars to decorate his office walls. After sifting through stacks of art directed towards every industry but his own, Hermansen's fruitless search quickly led to his latest business opportunity. In February 2006 he started Surfgeeks.com LLC, hired a roster of professional models and developed the first ever full-color girly calendars for IT professionals -- Data Dreams 2007.
The pages of the Data Dreams 2007 computer calendars feature alluring models posing with laptops, flat-screen monitors or data discs instead of sports cars or power tools. "Of the 15 million listed networking and computer professionals worldwide, 83 percent of them are males," Hermansen says. "Shouldn't they have their own computer calendars?"
Using only viral marketing tactics, Hermansen sold the first run of 1200 girly calendars within one month. From August through mid-October 2006, a period typically slow for calendar sales, his sales figures remained strong and Surfgeeks.com received more than 464,000 hits.
"In August, we sent information on our computer calendars to Calendars.com, whose site says that it may take up to six weeks for them to reply to product submissions," says Hermansen. "We heard from them the next business day, so we knew we had a viable product on our hands. I think we found a market that didn't exist before."
In addition to being available on Calendars.com and directly from Surfgeeks.com, the Data Dreams 2007 girly calendars are offered at Amazon.com and at the 500 nationwide mall kiosks operated by Calendar Club, a subsidiary of the San Francisco Music Box Company. Hermansen expects to expand availability to several other national booksellers and retailers in time for the holiday shopping season.
"96% of calendar sales take place between Thanksgiving and Christmas," Hermansen says. "Using current sales data, we expect our sales to top 30,000 units during that window."
This February, Hermansen plans to begin shooting Data Dreams 2008 with advertising opportunities for equipment providers like Dell, HP, Cisco, and Avaya. "If companies want to have their computer-related equipment or products featured with our models, that can be arranged," Hermansen adds.
For a closer look at the unique computer calendar designs of Data Dreams 2007 and more computer geek gifts and artwork, please visit Surfgeeks.com.
About Surfgeeks.com:
Started in 2006 to satisfy an unfulfilled technology industry niche, Surfgeeks.com offers tech-centric art, apparel and the Data Dreams pinup calendars that have taken the calendar industry by storm. The artistic visionaries at Surfgeeks.com produce eye-catching artwork created by IT people and for IT people.
###