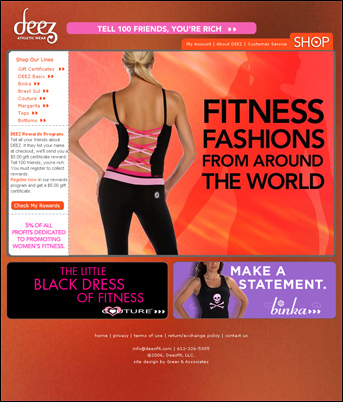 I've combed the globe to find the best of the best in workout wear
Minneapolis, MN (PRWEB) November 1, 2006
Gone are the days when womens activewear consisted of beat-up sweats and hand-me-down T-shirts a woman wouldn't be caught wearing anywhere else but the gym. More fashion designers are tapping into the desire to look great no matter what by taking womens fitness apparel from second-rate to first-class.
One new online athletic apparel store is taking sexy fashion activewear to a new level with pilates and yoga clothing and aerobic wear that not only stands up to the twists, turns and sweat of an intense workout, but looks good doing it.
Minneapolis-based Deez athletic wear features Deez Basix, Binka, Brasil Sul, Couture and Margarita apparel lines which offer womens activewear in designs that founders Dee Burton and Ken Greer believe help women work out more confidently.
"Deez is about the blend of fashion and fitness. If you're working hard to look good, you deserve workout fashion that makes you feel great," said Burton, Deez co-founder and co-owner. Burton relies on two decades of experience as a personal trainer to identify women's workout clothing that meet those high standards.
"I've combed the globe to find the best of the best in workout wear," Burton said. "I have personally tested all of the clothes for fit, comfort and style."
Give credit to Hollywood to some extent for reminding women that they can still feel sexy even when working up a sweat. In "Perfect," Jamie Lee Curtis made the gym glamorous. Jane Fonda's workout videos showed women in their 40s that they could maintain their girlish figures gracefully.
Burton and Greer's business model proves that ladies sportswear is not just about appearance – it's also about helping people be healthy. The two intend to use a portion of the profits from the sale of their womens activewear to foster greater fitness awareness; 5 percent of their proceeds will go to organizations that support fitness and/or sports for women and girls.
Their referral program also gives customers a $5 credit toward future purchases of women's workout clothing for every new referral customer.
About Deez:
Deez athletic wear, based in Minneapolis, Minn., was founded with the mission of offering unique brands of women's workout clothing, specifically designed to be comfortable and look great in an aggressive workout. Co-owners Dee Burton and Ken Greer share a love for fitness and contemporary sportswear. Burton, a fitness instructor with 20 years of experience, works at The Firm in Minneapolis. Greer is a cycling and spinning enthusiast who runs his own ad agency, recently featured in Tom Friedman's book "The World is Flat."
###