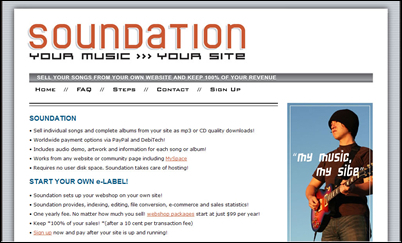 We are musicians ourselves, so we understand how disheartening it is to feel like you have no choice but to give away half of your profits to distributors if you want to offer your music to the public
Stockholm, Sweden (PRWEB) November 2, 2006
Indie music makers who want to sell their music online, but don't want to give away chunks of the profits to distributors now have a solution. Soundation.com (http://www.Soundation.com), launched today by audio sampling and sound effect pioneer PowerFX, is a new turn-key way for musicians to sell their music anywhere on the Web and keep all their profit.
Unlike competitor ecommerce sites who offer music for sale, Soundation.com does not take a percentage of the artist's revenue. Instead, Soundation.com provides server space for artists to store their music; builds and manages the artist's Web shop using an attractive Flash-based interface; and handles every aspect of the sales transaction. Soundation.com even takes care of converting music files, making demo clips, and providing real-time sales statistics to artists.
"We are musicians ourselves, so we understand how disheartening it is to feel like you have no choice but to give away half of your profits to distributors if you want to offer your music to the public," said Bil Bryant, CEO of Soundation's parent company PowerFX, and a noted producer, percussionist and author. "We knew there was a better way. And now we can help artists keep their profits and focus on what they do best—making music."
While Soundation.com provides the administrative means for artists to sell their music anywhere on the Internet, it does not retain a percentage of the song nor any rights to any music it hosts. Instead, artists choose a music download store package and pay for that package annually, in addition to a 10 cent transaction fee per sale to the end customer. Musicians may sell music by song or by full album downloads, and can even offer other merchandise such as t-shirts and posters. Orders for merchandise are then emailed to the artist for fulfillment.
"Finally there is a service that lets me sell my songs without being forced to have a record company behind me," said singer/songwriter and Soundation.com user Martin Ekman (http://www.martinekman.com).
Artists may embed or link to their music store via any Web-based environment, including their Web site, MySpace profile, blog, and fan sites. No programming knowledge or special software is needed.
"Artists can drive traffic directly to their home pages, instead of distributor sites, which helps them further build their brand and their relationship with the music consumer," said Bryant.
And because Soundation.com is a non-exclusive service, indie artists can offer their music for sale through any other channel they desire and layer their marketing and distribution efforts for maximum exposure.
Another unique aspect of the service is that artists don't pay when they sign up. Soundation.com first puts the artist's music store together, then makes sure everything is working and that the artist is 100 percent satisfied.
"We prefer not to approach it in an assembly-line fashion. We felt the artist should be treated like a client, and we work with them one on one to ensure they have the best Web shop interface, that all the functions work properly, and that they are absolutely thrilled with the result," said Bryant.
Soundation.com is ideal not only for the indie music maker in all genres, but also for:
DJs
Remixers
Comedians
Audio book producers
Motivational and political speakers
Community, worship, and educational music ensembles
Producers and artist managers
Independent and online-only record labels
Music business executives also benefit from Soundation.com's service. "e-Labels and indie labels without the resources or knowledge needed to build their own e-commerce sites from scratch can take advantage of our expertise and let us do all the work. It's economical and simple," said Bryant.
Artist managers and self-managed artists no longer have to wait for a record deal, or to be accepted into other download sites. They can offer music immediately to the public. Would-be music moguls can finally start that record label they've always wanted.
Ekman adds, "Soundation does all the work of uploading, indexing and constructing my Web shop, as well as manage it, do customer support and all the sales administration, letting me use my time doing what I love—making music and writing lyrics."
For more information about the Soundation online music download service for musicians, please visit http://www.Soundation.com.
About Audio Samples Leader PowerFX
Headquarter in Stockholm, Sweden, PowerFX is a leading sound development innovator, digital distributor and content provider specializing in sampling products and sound effects for today's sound production projects. Select PowerFX licensors include: Apple, Microsoft, Sony, Cakewalk, Ableton Live, MOTU, Propellerheads, Steinberg, Bias, Denon and Nokia. PowerFX sounds have been and are currently used in countless music, film and commercial productions. Additional information can be found by visiting http://www.PowerFX.com.
# # #