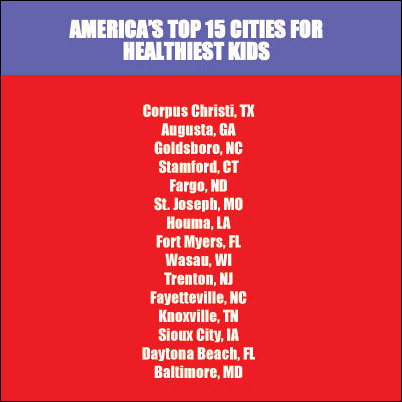 Bethesda, MD (PRWEB) November 2, 2006
A good indication of a child's health, especially around cold & flu season, is a measure of how well they take their medications. Following doctor instructions and completing medication regimens as directed is a sign of medicinal compliance and a sign of a successful treatment program. FLAVORx, the biotech company dedicated to improving the taste of medicines, recently released results for the cities that flavor the most in the United States. Studies show that a process as simple as flavoring can increase compliance in children from roughly 53% to over 90%. This improved compliance leads to better clinical and economical outcomes for pediatric patients.
Parents, health care officials, caregivers and patients that understand the need for compliance in improved patient care programs also tend to understand the value of flavoring. Seeing the link that compliant kids are healthy kids, FLAVORx announces the nation's top 15 cities for healthiest kids:
1. Corpus Christi, TX
2. Augusta, GA
3. Goldsboro, NC
4. Stamford, CT
5. Fargo, ND
6. St. Joseph, MO
7. Houma, LA
8. Fort Myers, FL
9. Wasau, WI
10. Trenton, NJ
11. Fayetteville, NC
12. Knoxville, TN
13. Sioux City, IA
14. Daytona Beach, FL
15. Baltimore, MD
These results were based on the average number of flavorings per week by metropolitan area. These cities in particular experience high volumes of flavorings performed by pharmacists and pharmacy technicians.
Skipped doses, forgetting to take medications and ending a drug regimen early can be detrimental to a child's health. It can lead to persistent symptoms, need for additional doctor visits or hospitalizations, worsening of the condition, need for additional medications, increased healthcare costs and development of drug-resistant organisms. This issue of non-compliance causes 125,000 deaths annually in the US and leads to 10-25% of hospital and nursing home admissions. Studies show that roughly 50% of the 2 billion prescriptions filled each year are not taken correctly. On average, 1/3 of patients take all their medicine, 1/3 take some and 1/3 never even get their prescriptions filled.
For children taking liquid medications, compliance can be particularly difficult to achieve when medications are bitter, sour or foul-smelling. In fact, for children taste may be the only motivation to take a medication and complete a treatment program. Masking the existing taste and smell of a medication and converting it to a flavor of the child's choice provides a solution to the battle with medicine and allows children to take an active role in their medication programs. Independent studies show that flavoring not only increases compliance dramatically, but also decreases healthcare costs by reducing the number of wasted (spit out) doses and significantly improves the 'quality of life' scores for pediatric patients.
About FLAVORx
FLAVORx is a pharmaceutical flavoring system used by pharmacists and veterinarians nationwide to improve the palatability of liquid over-the-counter and prescription medications. To date, FLAVORx has flavored over 40 million prescriptions without any incidence of allergy, adverse reaction or changes in efficacy. FLAVORx flavors are non-allergenic, dye-free, sugar-free, phosphate-free and alcohol-free, making them safe for all patients. With over 42 flavors ranging from Bubblegum and Watermelon to Chocolate Silk Pie and Peaches 'n Cream, FLAVORx is sure to please any taste bud whether it's a child or an adult. In addition, 16 animal-inspired flavors such as Crispy Bacon and Salmon Steak help medications go down a little easier for FLAVORx's veterinary friends as well.
For more information, please visit http://www.flavorx.com or contact Teresa Chen at 800.884.5771, extension 234.
###