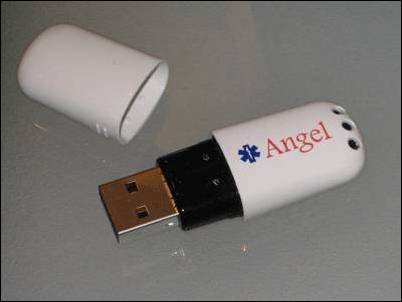 In emergency situations, every second matters, and so does information. By providing a tool like Angel that allows for rapid information retrieval, we're helping first responders treat patients much more quickly and ultimately save more lives
Washington, D.C. (PRWEB) November 3, 2006
When every second counts, a new service called Angel is the life-saving answer for first responders. Peoples' lives often depend on the quick reactions and competent care of first responders who stabilize them and perform pre-hospital medical procedures. Automobile accidents, heart attacks and ongoing medical conditions all require immediate attention and access to personal health histories and records that often are not readily available.
Angel is a suite of personal health record products including Angel Key, a portable USB device that first responders plug into a standard USB port and addresses the need for urgent access to health information. There are no device drivers to download for the compact, durable memory device – it is a simple plug and play. It was designed to be easy enough for anyone to carry and use, so in the case of a medical emergency all relevant information can be accessed quickly by first responders.
"In an emergency, ordinary information like allergies, previous medical events and current medication dosages are seemingly impossible for the injured to remember. Medical records are somewhere else, patients and family are scared, worried and their doctor's office is closed," said John Bryant, President & co-Founder, Angel Technology. "Thus, there is compelling and documented proof that access to a person's medical data, medical history and prescriptions can have a significant positive impact on their treatment during an emergency situation."
The suite also includes Angel Online (access information through a web browsers) and Angel Voice (access through landline or mobile phone). It gives first responders immediate access to a medical 'blotter;' the 14 critical facts all healthcare professionals need to know immediately in an emergency – allergies, blood type, current prescriptions, etc.
Angel owners receive six stickers and two key ring tabs to affix to a driver's license, cell phone, passport, helmet, tool box, windshield or wherever to alert first responders. Prices for Angel's line of products range from $39.99 for online access to $79.99 for the Angel Key and Voice Access.
"In emergency situations, every second matters, and so does information. By providing a tool like Angel that allows for rapid information retrieval, we're helping first responders treat patients much more quickly and ultimately save more lives," continued Bryant. "Because of the dangerous nature of their jobs, first responders must also be protected. Knowing someone is HIV positive or has hepatitis, etc. is valuable for healthcare professionals to know early to allow them to take additional precautions. Angel is a tool that would benefit them personally."
All Angel information is secure and encrypted with only the blotter information accessible to healthcare workers or authorities. The information carried on Angel is not part of a global network of databases of pharmaceutical insurance or other companies with medical affiliations. It is not shared with clinics, HMOs, hospitals, banks or employers.
"You control your medical and personal information with Angel," Bryant said. "The life-savings device puts you in charge of your well being at a time when you are at your most vulnerable. It's very empowering."
Angel medical profiles are created through a series of simple online questions that are automatically transferred to a blotter, which can then be accessed and heard over the phone with Angel Voice or seen on screen with Angel Key. It is also accessible online from anywhere there is Internet access.
Angel is a product of Angel Technology and is headquartered The Woodlands, TX. To learn more about Angel, please visit http://www.angelpowered.com.
###