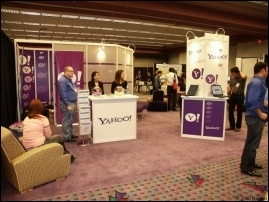 Yahoo's search ad platform is undergoing a major change and Yahoo's experts, will discuss
AUSTIN, TX (PRWEB) November 3, 2006
Yahoo! Search Marketing is to hold a special luncheon session titled "The New Advertising Platform" at WebmasterWorld's PubCon in November 14-17, 2006 at the Las Vegas Convention Center.
"Yahoo's search ad platform is undergoing a major change and Yahoo's experts, will discuss "Project Panama," said Brett Tabke, PubCon Chairman and WebmasterWorld Founder. "In this panel, Yahoo!s experts will provide an overview of the new platform that began rolling out last month, the new features and tools, and the upcoming changes to be expected from Project Panama. In addition, Yahoo! will spend plenty of time answering questions from the audience about what's to come and how things will work."
WebmasterWorld's Search Engine & Internet Marketing Conference, PubCon, is supported by the Internet industry's leading businesses, including (as of October 31 2006): AdBrite, Arquan, Ask.com, Best of The Web, Bitscape IT Solutions, Blogsvertise, Captures, Card Service Loud, Casino City, ClickTracks Analytics, Did-it Search Marketing, Efficient Frontier, ForgeBusiness, Fortune Interactive, Google, ISEDN.org, JoeBucks, LivePerson, Market Leverage, Moniker, Mountain Media, Opera Software, Page Zero Media, PayPerPost, PositionTech, PRWeb, Revenue Magazine, SearchEngineWorld, Search Marketing Standard Magazine, TechPad Agency, Text Link Ads, Topix, Trellian Software, TrueLocal, Visicom Media, WebmasterRadio, Website Magazine, Wordtracker, WebmasterWorld, Yahoo! Publisher Network.
About PubCon
WebmasterWorld's PubCon events are for thought leaders in search engine and Internet marketing professionals to gather to share best practices in the, design, development, promotion and marketing of their businesses and brands.
More information: http://www.PubCon.com
About WebmasterWorld:
WebmasterWorld is the leading source for Search Engine and Internet marketing news, best practices and educational events. Founded by Brett Tabke, an early '80s innovator in running BBS (Bulletin Board Systems), initially on SearchEngineWorld.com, the WebmasterWorld.com Forum began in 1996 and is now the largest community of online marketing professionals with more than 2 million posts and more than 100 discussion topics.
For more information about the conference, contact Brett Tabke at 512-231-8107 or brett at webmasterworld.com
In the UK, contact Neil Marshall Tel: (+44) 118 988 0288 or 512-772-1897, or engine at webmasterworld.com
For more details about sponsorship and exhibition opportunities contact Strategic Marketing Director Joseph Morin at 512-497-6856 or joe at webmasterworld.com
###