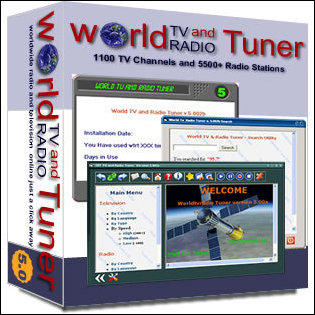 We believe that our users have the right to try our program before they buy it and we allow them to use a full unrestricted version of the software for 15 days free of charge -- no strings attached
Hamilton, Ontario (PRWEB) November 7, 2006
Worldtvradio has released World TVRT version five, previously known as 3webTotal TV & Radio Tuner, its award-winning software that allows internet users to browse international online TV and radio stations is now available.
Worldtvradio has been involved in software development for more than 15 years, according to Mauricio Soler, company spokesperson and software developer. The company's latest achievement has been the production and marketing of the most advanced radio and TV tuner for the Internet, winner of more achievement awards than any other program in this field, including:
ZD Net Five Seals Awards
Brothersoft Five Shields Award
Popular Software Editor's Choice Award
Sofotex Five Stars Award
Uptodown Editores Premiado Choice Award
The latest version of the online tuner -- originally developed in October 2003 -- features:
New and improved interface
New toolbar
New favorites administration
New and bigger database, with many fields added for each station
A direct link to the station home page
Local time (station time)
An upgraded search engine
New sound recorder
More skins/background designs
In addition, Soler said, the new version features access to 5,500 radio stations and 1,200 television channels - up from 3,500 radio stations and 800 television channels previously. "Our company was the first to offer this kind of service, and nobody offers as many stations as we do," he added. Users also will note improved performance overall, Soler stated.
The fully-operative evaluation version may be accessed for 15 days, before the user must decide whether they want to purchase the full version.
According to Yolanda Rozo, sales manager, it was important to the company to offer the software on a trial basis to potential customers.
"We believe that our users have the right to try our program before they buy it and we allow them to use a full unrestricted version of the software for 15 days free of charge -- no strings attached," said Rozo. "We know that our service is worth more than the price we charge for it (US$24.95). Our channels and stations lineup is unbeatable and we feel confident that by allowing the use of the full program for 15 days, our users will discover the value of the tuner and will buy it."
In addition to being affordable, the software was designed for ease of use, with a menu and toolbar similar to most online browsers, and features online support and interface in six languages: English, French, Italian, German, Portuguese and Spanish. Whether connecting to the Internet via dial-up or high-speed connection, users will find a wide range of stations that are accessible with the click of their computer mouse.
In addition to the entertainment value, the program is an extraordinary tool for foreign languages students, radio DJs who want to keep up with the latest music trends, teachers, immigrants, journalists and anyone interested in foreign languages and information.
Evaluation version available world TVRT Trial download
For more information contact:
Mauricio Soler
759 Stone Church Rd. East
Hamilton Ontario
L8W 1A9
Canada
Phone: (905)296-4264
Mobile: (905)570-9343
###