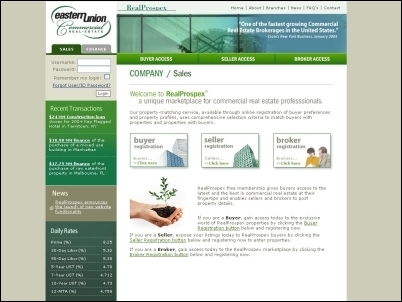 We believe that buyers are seeking deals in an environment where opportunities are presented clearly and efficiently
New York, NY (PRWEB) November 7, 2006
In response to persistent inquires about properties by their mortgage clients, Eastern Union Commercial is launching a powerful online service for automating commercial property searches at RealProspex.com. RealProspex is a comprehensive database which provides deals specifically tailored to individual buyers.
"We developed this portal to capitalize on the extensive deal-flow at Eastern Union," said Ira Zlotowitz, President. "Our mortgage clients had always wanted to know what we have seen for sale and with RealProspex they can find what they seek," he added. Unlike most listing sites that allow buyers to search through all their properties online, RealProspex will only send buyers a deal if it matches their specific criteria.
Through RealProspex, commercial real estate buyers and investors are only shown properties that are relevant to the detailed profiles they create, yielding a highly targeted deal selection. Additionally, each offering undergoes a thorough underwriting analysis by Eastern Union's finance experts, ensuring that the deal truly meets the buyer's criteria. Buyers and investors can access the new property matching service by registering for the beta version at RealProspex.com free of charge.
Sales brokers can beat "the listing rush" by registering their commercial properties for free using the beta version of RealProspex. The database provides sales brokers with a more efficient way to monitor buyer interest and bid activity on each of their properties.
"We believe that buyers are seeking deals in an environment where opportunities are presented clearly and efficiently," said Abraham Bergman, Principal of Eastern Union Commercial.
About Eastern Union Commercial
Eastern Union Commercial is one of the fastest-growing commercial real estate brokerages in the country, with ten offices nationally, specializing in multi-family, retail, office, industrial, healthcare, mixed-use, hotel and construction loans. Over the last 12 months, the company has negotiated over $1 billion worth of real estate transactions throughout the country. For more information visit: http://www.EasternUC.com or call toll free 866-862-4800.
###