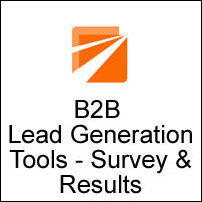 The strategic considerations for marketers in evaluating these tools were a surprise to us
TORONTO, Ontario (PRWEB) November 7, 2006
When asked to vote for their favorite best-of-breed B2B lead generation tools, 65% of those surveyed nominated email, blogging and web analytics tools in a recent survey by Direct Impact Marketing Inc.
Those surveyed reported that although these tools were nominated based on affordability and user-friendliness, B2B marketers were deploying these tools strategically to fill a gap in marketing capabilities.
"The strategic considerations for marketers in evaluating these tools were a surprise to us" said Robert Lesser, President of Direct Impact Marketing. "Our hypothesis was that given the negligible fees associated with these online marketing tools, B2B marketers would be looking at them tactically to lower costs or to automate a manual function."
Lead generation tools -- High User Satisfaction and Broad Deployment
The satisfaction level with these tools was high --- only 13% of marketers indicated that a change of tool was planned; all the more interesting given the low barriers to switching tools. Adoption was also high within respondents' organizations --- the majority of marketing staff have already adopted the tools or widespread deployment is about to occur.
B2B marketers indicated disparate and uneven sources of awareness about these tools, ranging from word-of-mouth, to online media like e-zines, search engine results and email marketing.
"Sharing our knowledge and experience with one another about led gen tools is essential given the numerous fragmented and biased sources of information about them," says Robert Lesser, President of Direct Impact Marketing. "We need to know what lead generation tools rank highly with B2B marketers. The results of this survey provide the industry with information in an easy-to-use practical format to make the best choices about lead generation tools that work best, as reported by the people actually using them."
Directory of Nominated Lead Generation Tools Now Online
The global community of B2B marketers now has access to a comprehensive knowledge base of the lead generation tools already successfully deployed by their peers. Direct Impact Marketing is the publisher of the free online Lead Generation Tools Directory found at http://www.LeadGenTools.com
All of the products featured on LeadGenTools.com are nominated by users of the tools, not vendors, and ranked according to the number of votes posted by B2B marketers responding to the LeadGen Tools Survey. The directory includes over 65 lead generation tools in 14 categories such as blogging, search engine marketing, email marketing, web analytics and web conferencing.
Lead Generation Tools Survey Results Available to All Respondents -- Voice Your Opinion
The LeadGen Tools Survey results are free to B2B marketers who complete the lead generation tools survey, found at http://www.surveymonkey.com/s.asp?u=561102653676. The Survey takes five minutes to complete.
About the Survey
Direct Impact Marketing conducted the survey to identify the most popular, affordable, and user-friendly B2B lead generation tools and to gauge marketers usage and attitudes toward the tools. The survey polled over 60 B2B marketers across North America from August to October. Robert Lesser will be presenting the results of the survey at the MarketingSherpa B-to-B Demand Generation Summit in San Francisco this fall, and has already presented them at the Boston event.
About Direct Impact Marketing Inc.
Direct Impact Marketing Inc. offers outsourced B2B lead generation services as well as acting as the publisher of the LeadGenTools.com community. This free B2B Community resource provides marketers with a directory of affordable and user-friendly lead generation tools found nowhere else on the web, as nominated by B2B marketers.
The services division of Direct Impact Marketing is an innovative outsourcer providing B2B lead generation services for marketing and sales executives. Leveraging industry best practices in lead generation along with customizing CRM tools, Direct Impact Marketing supports its client-base with highly responsive on-demand inside telesales and direct marketing teams.
Corporate Contact:
Robert Lesser
Publisher//LeadGenTools.com
President//Direct Impact Marketing Inc.
###