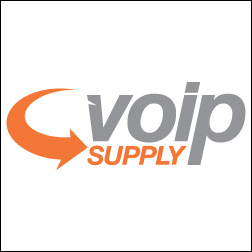 With broad adoption of VoIP phone systems in the corporate sector, VAR's and resellers are quickly beginning to move from analog paging systems to networked paging devices that are easily connected to existing IP networks with a single Ethernet cable connection
Buffalo, NY (PRWEB) November 8, 2006
VoIP Supply, a leading Internet Retailer of Voice over IP equipment, including IP Phones, Telephone Adaptors, and Wi-Fi VoIP solutions announced today that it has partnered with CyberData Corp, a leading OEM design and manufacturing firm, to deliver VoIP Paging solutions to the North American marketplace. The partnership will further expand VoIP Supply's industry leading product catalog and CyberData Corp's presence in the North American marketplace.
"CyberData's suite of VoIP Paging product's answer the paging needs of businesses making the switch to VoIP," said Benjamin P. Sayers, President and CEO of VoIP Supply. "VoIP Paging is an underserved sector of the VoIP equipment market and with the recent growth in the popularity of IP PBX systems in North America, VoIP Supply and CyberData are in an outstanding position to meet the growing demand for VoIP Paging solutions in the market place."
"With broad adoption of VoIP phone systems in the corporate sector, VAR's and resellers are quickly beginning to move from analog paging systems to networked paging devices that are easily connected to existing IP networks with a single Ethernet cable connection", said Matt Brahmana, Director of VoIP Product Management.
The partnership will focus on the sale of CyberData's VoIP Ceiling Speaker, VoIP Paging Gateway, and their VoIP Loudspeaker Amplifiers through VoIP Supply's Internet Retail and Reseller channels in North America. For more information about CyberData VoIP Paging solutions, or to make a purchase please visit VoIP Supply
About VoIP Supply
VoIP Supply, LLC, is a leading Internet Retailer of Voice over IP Hardware. In addition to a comprehensive catalog of IP Phones, Telephone Adaptors, VoIP Gateways, and Small Business IP PBX solutions, the company offers technical support, extended warranties, and logistical services for end-to-end customer solutions. VoIP Supply was recognized as number 45 on the 2006 Entrepreneur/ Pricewaterhouse Coopers HOT 100 fastest growing companies in the US. VoIP Supply has also been recognized as the fastest growing company in Western New York by Buffalo's Business First newspaper. For additional information on VoIP Supply, LLC please contact Garrett Smith at 716.250.3408.
About CyberData Corp
Founded in 1974 in Monterey, California, CyberData Corporation designs and manufactures VoIP peripherals that replace analog devices in legacy phone systems. CyberData has more than 30 years of design and manufacturing experience and is known for creating innovative products that use leading edge technology.
CyberData's reputation for quality and extensive experience has created numerous OEM relationships with companies such as Epson, Dell, HP, Symbol, Fujitsu, NCR, Wincor-Nixdorf.
For further information visit us at http://www.CyberData.net.
# # #