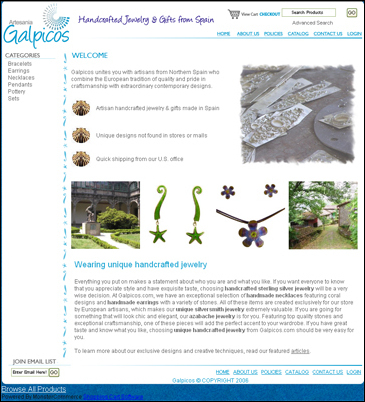 We believe that our artisans made their jewelry to be loved, not just to be sold
Miami, FL (PRWEB) November 8, 2006
Thanks to the explosive growth of Internet shopping, jetsetters on a budget can take a virtual trip around the world for one-of-a-kind gifts and indulgences. Small businesses and independent artists and manufacturers are using technology to get their products into more hands – newer, fresher and faster than ever before.
One such online retailer is Manuel Toubes, founder and owner of Artesania Galpicos, which specializes in unique handcrafted jewelry, including handcrafted sterling silver and gemstone jewelry. The Florida-based Toubes works directly with Spanish craftsmen to sell their artworks to customers around the world who are looking for pieces that are not offered anywhere else.
"We believe that our artisans made their jewelry to be loved, not just to be sold," Toubes said. "All my products are made in Spain by artisans and family companies."
Toubes, himself a native of Santiago de Compostela, Spain, brings aficionados unique handcrafted jewelry pieces – such as azabache jewelry, handmade earrings, black coral jewelry, handcrafted sterling silver and unique amber jewelry – that are also affordable because they come directly from the artisan to the customer, he said.
"Our artisans are involved in every aspect of the jewelry-making, just like art is a part of everyday life in this region: from the melting of the silver, to the cutting of the stones and materials, and to the making of the finished product, the artisan touch is present," Toubes said. "The handmade aspect is evident in the tiny variations of each individual piece, which contribute to its beauty. No two pieces are alike. You will not find these products in traditional stores or malls."
For many of Toubes' customers, his Web site, galpicos.com, is the closest they will ever get to a stroll through the charming Spanish marketplace. In turn, these unheralded artists get a wider audience for their work, which, without the exposure they get in Artesania Galpicos' online market, would not be seen outside the narrow streets of their hometowns.
About Artesania Galpicos:
Manuel Toubes brings unique handcrafted jewelry from the craftsmen of Northern Spain to people around the world who love the finer things in life. Visitors to Toubes' "e-tail" shop, Artesania Galpicos (galpicos.com), can buy handcrafted sterling silver, 18-carat gold, genuine azabache, jet jewelry, and other handcrafted gem stone jewelry that is not mass produced and cannot be found by the dozen in a retail store. The one-of-a-kind pieces go directly from the artisans' workshops to the online store and into the customers' hands.
###