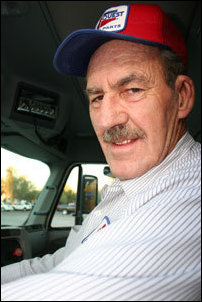 It was a special moment to celebrate Felix's achievement of 1,000,000 safe miles,
Raleigh, N.C. (PRWEB) November 8, 2006
Felix Haynes, a Professional Delivery Representative (PDR) for the CARQUEST Auto Parts Distribution Center in Phoenix, Ariz., has become the first individual in the history of General Parts, Inc. / CARQUEST to reach 1,000,000 miles without a safety incident. Haynes was honored for his achievement with a celebration Monday, Nov. 6 at the Phoenix DC.
"It was a special moment to celebrate Felix's achievement of 1,000,000 safe miles, " said David McCartney, Senior Vice President, DC Operations. "Felix represents the Spirit of CARQUEST and is a role model for our safety culture. He has proudly served his customers, the organization and been a positive influence on the community for 10 years in a row without an incident. The organization deeply appreciates Felix and all the Professional Delivery Representatives for what they do every day to make a difference."
Mr. Haynes and his wife Mildred have four children (Mary Lou, Claud, Jack and Tracey) and one grandchild, Cassandra. A native of Summerset, KY, Felix and his family have called Arizona their home for the past 25 years. Always the professional, Felix is humble in his achievement.
"I'm very thankful for CARQUEST in recognizing me and always looking out for drivers like myself, " said Haynes, who travels more than 500 miles each evening delivery to CARQUEST stores located in the desert and mountains of Arizona. "I'm supplied with quality equipment and a consistent route which gives me the ability to know what to expect each night when I'm on the road."
Professional Delivery Representatives earn miles without incident based upon the following criteria:
No preventable crashes (defines as any "driver-at-fault" incident with property damage over $150)
No moving vehicle convictions (defined to include personal as well as company vehicles)
No Hours Of Service violations of the 11, 14, or 60-hour D.O.T. regulations that govern all drivers of Commercial Motor Vehicles.
Minimum of 15 days driven per quarter.
Each PDR earns points for safe driving in the CARQUEST MILEstone Award program and are recognized for reaching 250,000, 500,000, 750,000 and 1,000,000 consecutive safe driving miles.
In appreciation for his accomplishment, Mr. Haynes was given the choice of 400,000 MILEstone points or a one-week vacation for two anywhere within the Continental United States.
CARQUEST Auto Parts is the premier supplier of replacement parts, accessories, supplies and equipment for virtually all makes of automobiles, as well as light and heavy-duty trucks, off-road equipment, buses, recreational vehicles and agricultural equipment. Additionally, CARQUEST distributes and sell tools, equipment, chemicals, paint and accessories. For more information, visit http://www.CARQUEST.com
###