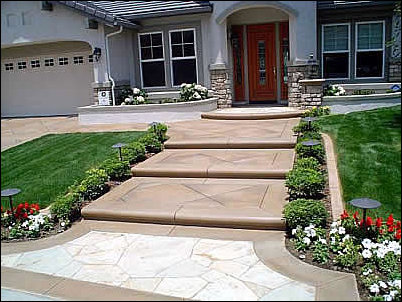 Yucaipa, CA (PRWEB) November 10, 2006
The Concrete Network, the largest and most comprehensive source for concrete information, has just launched a new Stairs and Steps section on its Web site. The section details design basics, decorative enhancements, safety considerations, and offers an extensive online photo gallery.
Concrete steps or terraced stairways are the most prominent feature at the entryways of many homes and public buildings, yet too often they get relegated to purely utilitarian status. Choosing the perfect stairway design is often a long and tedious process. With design options that are limitless, elevating concrete stairs from bland to grand makes them the dramatic focal point of any entrance.
There is no need to settle for boring, commonplace risers and treads when numerous options are available for imparting color, pattern, and decorative face and edge details. Even greater visual impact is possible by combining decorative stairways with stamped or stained concrete walkways and landings that incorporate coordinating colors and patterns.
For more inspiration, browse through The Concrete Network photo gallery where stairways and walkways have been transformed from ordinary to extraordinary by contractors around the country.
Established in 1999, The Concrete Network's purpose is to educate consumers, builders, and contractors on popular decorative techniques and applications including stamped concrete, stained concrete floors, concrete countertops, polished concrete, and much more. Over 872,000 visitors researched The Concrete Network Web site in June, 2006.
The site excels at connecting buyers with local contractors in their area through its Find-A-Contractor service. The service provides visitors with a list of decorative concrete contractors throughout the U.S. and Canada, and is fully searchable by 22 types of decorative concrete work and 199 metropolitan areas throughout North America.
News image courtesy of Concrete Art. Attached photos courtesy of Elite-Crete.
###