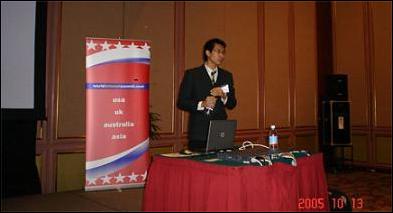 Making money on the internet by selling a product or service is actually a simple task. All you need to do is to find the market online and deliver the products to them
Ferndale, WA (PRWEB) November 9, 2006
Patric Chan from Malaysia has joined the small, very select group of savvy internet marketers who are successfully making money on the internet.
At the World Internet Summit 2006, he took up the World Internet Challenge as explained at http://www.youchandoit.com/new/wis.html where he'll answer to a challenge to demonstrate 'live' how to make money within 24 hours online.
Patric was the first Malaysian internet marketer to join the rank of international speakers featured at the first World Internet Summit in 2005.
Invited again to speak for the second consecutive year at the summit, Patric has decided to go on another step to show the participants how, by using his proven methods, to earn internet income within just the 24 hours of the event.
He is a walking proof that anyone in the world can make money from the internet by selling online.
Five short years ago Patric was a high school graduate in Penang, Malaysia, who couldn't afford to go to college (not enough money and his average grade couldn't attract a scholarship) and was trying out several different jobs.
Patric Chan today makes his living from the internet by selling online his services and info-products. He has been quietly making money and building his internet business from home while incurring minimal expenses monthly which is described at http://www.internetmarketing-tactics.com
His success story put to rest once and for all any doubt about can or not an average person like a housewife, student, etc makes money from the internet by selling products or services by following a correct system - legitimately without being involved in any pyramid scheme or 'money game'.
Droves of people from around the world now are tapping into the vast opportunity to make money online, in the borderless world of the internet. But Patric's methods and ability to do so have made others take notice and want to follow.
Definitely, those other outstanding internet marketers behind the World Internet Summit think highly of Patric Chan to want to invite him to be a fellow speaker, not once but twice now.
"Making money on the internet by selling a product or service is actually a simple task. All you need to do is to find the market online and deliver the products to them," said Patric Chan.
Watch how Patric Chan does it 'live' at the World Internet Summit 2006 as he takes the challenge of how to make money within 24 hours online at http://www.youchandoit.com/new/wis.html.
Editors: For more information or to interview Patric Chan, contact:
Patric Chan
Office Tel: + (6) 04 6609223
###