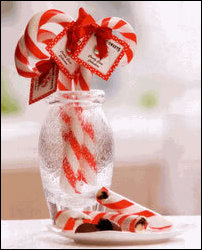 wait until you hear the sounds of happy delight when the chocolate surprise is discovered!
Irwindale, CA (PRWEB) November 10, 2006
A new candy development has emerged in the candy world and CandyWarehouse.com, a premiere online candy store, is the first to debut these products online. This hand-made in the USA holiday treat -- a large peppermint candy cane filled with rich dark chocolate, measures 7 inches long and has a net weight of 2 ounces. Christopher Pratt, President of CandyWarehouse.com, says "The combination of a refreshing peppermint flavor hard candy shell encompassing a scrumptious dark chocolate surprise inside is simply genius! "
Wrapped tightly with clear cellophane, these classic holiday treats (with a surprise twist) are not only great to eat, but perfect for decoration -- brightening up any Christmas tree, holiday wreath, office candy jar or gift box. They can be used as stocking stuffers and Christopher has first hand knowledge when he says "wait until you hear the sounds of happy delight when the chocolate surprise is discovered!"
CandyWarehouse.com has a special Christmas candy section and offers many ideas for holiday sweets. A candy classic with a twist is the Candy Cane Roca. This candy, created by the company who created the classic Almond Roca, is buttercrunch toffee with chocolate and accented with peppermint candy bits. The sweets are packaged in an elegant candy-cane-shaped gift box and each box contains approximately 12 pieces. "Just think of the original Roca with a twist -- a delicious burst of candy cane in every bite," says Christopher.
Another holiday favorite is the classic gingerbread house. CandyWarehouse.com, with the help of the magical Willy Wonka candy factory, can help families create this Christmas tradition in their homes. Christopher suggests "The Wonka Candy Gingerbread House Kit makes a terrific Christmas gift that is interactive and edible." The kit includes everything needed to build an impressive candy house: gingerbread, Wonka Candy (10 ounces), vanilla icing mix, decorations and a set-up tray. Create your very own design, make it a team project and impress friends and family. The sweet smells of these candy houses can be irresistible.
CandyWarehouse.com also offers a large selection of Christmas candy lollipops -- like the Christmas Mini Swirl Pops. These suckers come in a Christmas color assortment of swirling red, white, and green and are cherry flavored. A thick and sturdy, longer-than-average stick allows one to enjoy this sucker without the mess. Each lollipop measures 7 inches long with a diameter of about 3 inches.
And if that wasn't enough, CandyWarehouse.com offers a large selection of colorful and delicious stocking stuffers and a full line of Christmas candy gag gifts like reindeer pooping candy dispensers, Santa's black coal candy, and peppermint shot glasses, just to name a few.
About Candy Warehouse
CandyWarehouse.com is a bulk candy super store that sells a wide variety of candy favorites. The online candy store has products arranged by category such as nostalgic & old time candy, by brands such as Willy Wonka candy, and by holidays or special occasions such as baby shower candy. The company has been serving loyal customers for 8 years with fresh candy shipped fast.
# # #