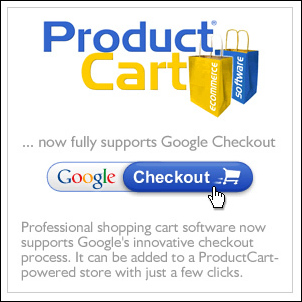 San Francisco, CA (PRWEB) November 14, 2006
Early Impact adds support for Google Checkout to ProductCart
Popular shopping cart software now integrates with Google's alternative checkout process
Early Impact, an ecommerce software development company, just released a new version of its ProductCart line of shopping carts that allows store managers to easily use Google Checkout as an alternative checkout process on their Internet stores.
ProductCart users are now able to easily add Google Checkout to their storefronts as a checkout option and take advantage of the many incentives that Google has lined up for Google Checkout merchants, including free transaction processing for the month of December, 2006.
Google's new checkout process is seamlessly integrated into ProductCart. Store managers can turn it on with just a few clicks and give customers the ability to checkout without having to create a new account.
The addition of Google Checkout to an Internet store can provide benefits for both for the store owner and its customers.
Store owners can count on:
More effective AdWords ads. If they use Google AdWords, when Google Checkout is activated, a Google Checkout badge is automatically added to eligible AdWords ads, which tells customers that they will be able to buy on your store using this convenient checkout process.
Free transaction processing. For every $1 spent on AdWords, merchants can process $10 in sales for free through Google Checkout. And all transactions are free during the month of December, 2006.
Seemless Integration with ProductCart. The two systems continuously exchange information during the checkout process, invisibly to the user. For example, orders placed with Google Checkout are displayed in the ProductCart Control Panel. ProductCart automatically identifies them as Google Checkout orders and provides store administrators with tools that are specific to managing those orders.
Store visitors can benefit from a speedy checkout process. Their billing and shipping information is stored in their Google Checkout account, so they don't need to create a new one.
Integration with Google Checkout is just one of hundreds of features offered by ProductCart. ProductCart v3 is available starting at $695 per storefront. For more information and fully-functional demos, please visit the Early Impact Web site
Early Impact develops e-commerce software for small businesses. Its ProductCart line of shopping cart software is used by thousands of Internet stores around the world. Hundreds of Web design companies have chosen it as their e-commerce system of choice for building online storefronts for their customers. Early Impact is privately owned and headquartered in San Francisco, CA.
Contact: Massimo Arrigoni, CEO, Early Impact LLC, 415-563-1434
###