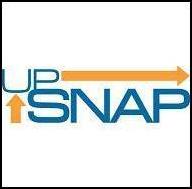 Pay-Per-Call advertising is an important new revenue stream for our audio partners and another first for UpSNAP. Now for the first time, podcasters can earn advertising revenue from their podcasts on mobile without having to rely on a subscription or sponsorship model
Davidson, NC (PRWEB) November 10, 2006 -–
UpSNAP, Inc. (NASDAQ UPSN:OB -- http://www.upsnap.com), today announced new revenue generation opportunities for podcasters and radio stations based around a pay-per-call advertising model.
Podcasters, until now, have had few options for generating revenue, despite the enormous popularity of podcasting and substantial audience reach figures. UpSNAP overcomes this limitation with an industry-first mobile advertising and revenue sharing program for its mobile audio partners.
UpSNAP's unique new ad model inserts pay-per-call advertising prior to the beginning of an audio stream delivered via its popular mobile podcasting service, which can be accessed via any of the 210 million cellular handsets in the US. Listeners responding to these targeted pre-stream ads are connected to a customer service representative to get more information or to place an order. Afterwards, they are automatically returned to their audio stream. The content partner then receives a percentage of the pay-per-call revenue paid by the advertiser.
The rapidly expanding UpSNAP mobile audio library now consists of over 1,000 titles across sixteen categories, and is open to all podcasters and radio stations that wish to mobile-enable their content. Mobile listeners can build their own personal playlist of up to ten podcasts, which then can be accessed via their mobile phone simply by texting "POD" to 27627. This free service is available today at http://www.upsnap.com.
"Pay-Per-Call advertising is an important new revenue stream for our audio partners and another first for UpSNAP. Now for the first time, podcasters can earn advertising revenue from their podcasts on mobile without having to rely on a subscription or sponsorship model," said UpSNAP's CEO Tony Philipp.
About UpSNAP, Inc
UpSNAP, Inc. (NASDAQ: UPSN.OB) is the leader in mobile search and live mobile audio entertainment. UpSNAP services include text and audio content from major entertainment companies in sports, news, music, and information.
Contact:
Tony Philipp, CEO
(704) 895-4121
###