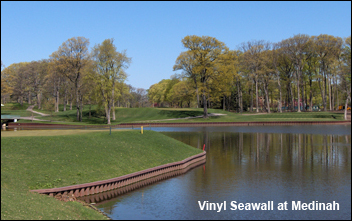 I primarily built docks in the past. I wasn't happy working with concrete, so I got into vinyl. I've found that it lasts for a long time, it's easy to install, and it's aesthetically pleasing. That makes it perfect for golf courses.
Atlanta, GA (PRWEB) November 11, 2006
Medinah Country Club in suburban Chicago is home to one of the most prestigious golf courses in America. If you tuned in to see Tiger Woods blow away his competition at the 88th PGA Championship this year, you got a glimpse of Medinah's majestic course # 3. Although Medinah has hosted many other major championships in previous decades, the course provided exciting, uncharted territory for the professional golfers in 2006. Recent restoration projects at the Club have resculpted #3, returning the holes closer to their original early twentieth century design. However, Medinah is not your grandfather's golf course. If you look past the traditional, "old-school" sculpted bunkers and classic ponds, you'll see some innovative, modern technology at work.
A club of Medinah's caliber has to have courses that not only provide an athletic challenge but also look perfect all of the time. Unfortunately, the containment seawalls around the club's lake were starting to corrode. In some spots, the older steel pilings had completely rusted, compromising the seawalls' stability and appearance. Containment walls and bulkheads are necessary in order to combat shorefront erosion and flooding. In some cases, they also provide vital soil reinforcement.
In 2002, Medinah hired Bud Willitzer of LakeMaster Inc. to replace several thousand feet of sheet piling surrounding the water. Instead of installing more steel, Willitzer decided it was time to update the historic course with newer, high-performance construction materials. He immediately suggested vinyl sheet piling.
"I've been working with vinyl sheet piling since it was introduced," Willitzer said. "I primarily built docks in the past. I wasn't happy working with concrete, so I got into vinyl. I've found that it lasts for a long time, it's easy to install, and it's aesthetically pleasing. That makes it perfect for golf courses."
Willitzer chose C-Loc vinyl sheet piling for the Medinah project. The product is manufactured by Crane Materials International (CMI), the largest producer of synthetic sheet piling in the world. Industry experts say the demand for vinyl piling has skyrocketed over the last two decades because it provides an affordable, long-lasting alternative to steel, aluminum, concrete, and wood sheeting. Even the U.S. Army Corps of Engineers has concluded that vinyl sheeting has advantages over steel in cost, durability and lightness.
"The fact that it is light is really important on a project of this nature," said Willitzer. "We had to be careful that we didn't hurt the greens. That's a big factor when you're working with six to ten foot sheets. C-Loc is much lighter than steel, so we could manhandle it fairly easily. It's a very easy product to install compared to other materials."
Although C-Loc has been used successfully in both light residential and heavy-duty industrial seawall projects, Willitzer said the Medinah Country Club placed a higher priority on appearance than most of his clients. According to Willitzer, C-Loc does a good job withstanding the impact of balls that occasionally hit the wall. Vinyl also never needs repainted and resists fading by the sun and other elements. In order to get the maximum visual effect, Medinah agreed to go with CMI's complete seawall system, including wales and caps. The finished result is a visually pleasing wall that maintains the historic integrity of the Club.
"We started the job in 2002 and worked on it in segments until we had to pull out for the PGA Championship in 2006. The televised pictures of the wall during the event sure looked great!" Willitzer said.
Willitzer isn't the only one who is impressed with the Club's new look. In 2005, Golf Digest ranked Medinah #15 in its list of "America's 100 Greatest Golf Courses."
PGA of America Managing Director of Tournaments, Kerry Haigh gave PGA.com News Services his take on the completed project. "For 80 years, the course has provided some of the most exciting major championship experiences," he said. "With the changes that have been made, we feel that Medinah is ready to challenge the world's strongest field in golf, not only for this year's (2006) championship, but also for the next 80 years of major championship golf."
Ask golfers what they like most about the restoration of Medinah's #3 Course and they will tell you about the removal of blind shots on some of the holes, the deeper bunkers, and the lush, contoured greens. However, for all the romantic talk of achieving a traditional appearance, the "return to the past" concept at Medinah succeeded because construction crews relied on thoroughly modern materials and innovation.
###