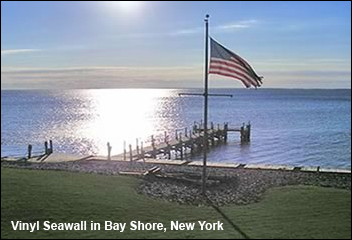 The problem of borers is a common problem, especially here on Long Island. It is terrible! I've seen some docks that only last seven or eight years. The worms eat holes right through them.
Atlanta, GA (PRWEB) November 11, 2006
Captain's Walk is a lovely community of townhouses in Bay Shore, New York. Most of the homes face Long Island's Great South Bay, allowing residents to sit and gaze at the water and enjoy the distant view of the historic Fire Island Lighthouse. Mark Rosenthal, the president of Captain's Walk homeowner's association, says, "It's fabulous, especially when the full moon is on the bay."
However, living on the water presents unique challenges, especially when decisions about protecting your property must be made with the consensus of your neighbors. About four years ago, Rosenthal began to worry about a seawall (bulkhead) and a boardwalk that creates a division between the bay and a common yard. The bulkhead was about 20 years old and showed signs of deterioration. "We had several washouts and I thought it wouldn't hold up too much longer," Rosenthal recalls. He knew replacing the bulkhead with standard, treated wood would just mean more decay in a few years. Long hours of research brought him to the conclusion that vinyl sheet piling was the way to go. Still, it took him a several years to convince a few of the other homeowners. Some were worried about paying for the project, while others questioned if the work was even necessary. Finally after much debate, the residents agreed that the project should go forward. Captain's Walk hired Bayview Dockbuilding to construct the new bulkhead.
John Rainis, the owner of Bayview Dockbuilding, said the residents of Captain's Walk made the decision to start the work just in time. Marine borers were destroying the structure. Borers are tiny animals that live in saltwater and brackish areas. They have a huge appetite for exposed wood. "The Captain's Walk bulkhead was eroding quickly because of borers. The guys who cut the grass were afraid to go near the dock because they didn't think it was safe," says Rainis. "The problem of borers is a common problem, especially here on Long Island. It is terrible! I've seen some docks that only last seven or eight years. The worms eat holes right through them."
Rainis has been installing vinyl sheet piling for about seven years. He believes this technology is far superior to steel or wood. When manufactured properly, vinyl is an ideal building material with excellent performance in the harsh marine environment, and unlike traditional product materials, will not deteriorate, corrode, or peel. Vinyl also has an impressive strength to weight ratio, making it extremely durable and easy to install. Plus, it comes in a wide variety of colors, which allows property owners to create the look they want.
For the Captain's Walk project, the homeowners and Rainis chose vinyl sheeting produced by Crane Materials International (CMI ). "I think it is a quality product, and I've worked with other vinyl products where the quality just was not as good. Even my guys noticed it right away." ??"I feel really good about going with this new technology. There are just so many advantages to using the vinyl sheets. By the time we would have finished the project, wood would have cost just as much and it wouldn't have lasted nearly as long. I am also really happy about CMI's warranty, although we probably will never need it. I don't think any of us will be around by the time this community has to replace a bulkhead again," Rosenthal said.
Although it took the Captain's Walk homeowners several years to reach a decision to start the project, it didn't take long for them to agree on the end result. Rosenthal reports, "It looks fantastic! All of the homeowners love it."
# # #