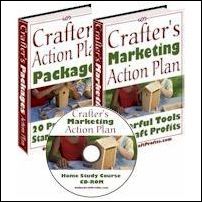 Most crafters lose money when they try to advertise and grow their craft business outside the craft show setting
Burnaby, BC, Canada (PRWEB) November 14, 2006
Corporate Edge Software announces availability of the Crafter's Marketing Action Plan, a new home study course designed to help craft business owners expand their businesses using time-tested marketing techniques.
"Most crafters lose money when they try to advertise and grow their craft business outside the craft show setting," says Jason Jantzi of Corporate Edge Software. "This is because their business is not structured to capture a prospect and market to them the way many successful businesses do. This makes it nearly impossible to advertise profitably.
In addition, crafters often present a huge selection of "first" products to their customers, but rarely do they offer a "line" of products that would lead to repeat sales to the same customer -- a staple of profitable business."
The Crafter's Marketing Action Plan presents a formula that will help crafters solve these and other marketing challenges, and grow their businesses successfully.
Crafters can purchase the home study course over the Internet at the website http://www.OnlineCraftProfits.com
For more information about the Crafter's Marketing Action Plan, contact:
Jason Jantzi
529 -- 6540 East Hastings St.
Burnaby, BC, Canada V5B 4Z5
Visit the Web site at http://www.OnlineCraftProfits.com
# # #