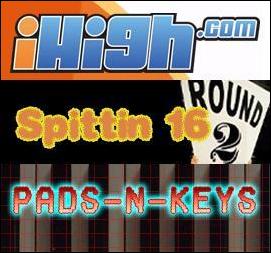 Lexington, KY (PRWEB) November 14, 2006
The new and improved iHigh.com, now a competition-oriented social network and non-traditional marketing agency, has started a new series of online competitions to follow-up on the success of their Spittin 16 Barz (rap) and Unsigned Band (rock) Competitions. Spittin 16 was launched at this year's Scribble Jam, an annual hip hop festival in Cincinnatti. Aspiring rappers recorded a few rhymes, entered them into the competition on the website, and watched while their entries were voted on by the site's users. Running from mid-August to the end of September, the contest saw more 130 entries earning nearly 20,000 cumulative points from voters. The winning entry, with a final score of 2316, came from a Cleveland, OH, emcee by the name of Scheme D. He took home a cash prize of $500 along with prizes from sponsors ADK Microphones, Future Music Magazine, URB Magazine, Metaphoric Clothing, Fat beats Records, Complete Technique, and TheBreakdown.TV.
The Unsigned Band competition is directed to rock bands, particularly younger groups trying to get their names and their songs heard by a large audience. It began on September 15th and runs through November 15th. With exactly a week left before it ends, the competition had already exceeded expectations by leaps and bounds, surpassing the numbers of Spittin 16 exponentially. At 2:30 pm, 11/08/2006, 345 contestants had garnered 84,045 collective points in the voting. The winner in that competition will take home prizes by Hartke Systems, Samson Audio, ADK Microphones, Ace Fu Records, Vic Firth, Zoom, and Ernie Ball.
Following on the success of those contests, iHigh.com is introducing two new contests for musicians: Round 2 of Spittin 16 and the Pads-N-Keys Beats Competitions. Both are hip-hop-oriented competitions. Spittin 16: Round 2 will be the same rap competition with a whole new package of prizes for the winner. Prizes include a case of Pimpjuice Energy Drink, a Pimpjuice hat autographed by Nelly , a Hamburg Edition ADK Microphone, a Complete Technique Pendant, clothes by Weight NYC, custom shirts from Metaphoric Clothing, a year's subscription to DooleyDrums.com, and a package of CDs from Definitive Jux Records. It is a second chance for anyone that missed out on Round 1. The winner will be selected by a panel of hip hop industry judges from the top 5 vote-getting entries. See spittin162.ihigh.com for more information.
The Pads-N-Keys Beat Competition simply asks contestants to create a beat and upload it to the competition. Just as in Spittin 16: Round 2, the winning beat will be selected by a panel of hip hop industry judges from the top 5 vote-getting entries. Among the judges for both competitions are R&Bsoul artist Algebra Blessett, Berklee College of Music Professor of Music Production and Engineering Stephen Webber, FuseTV VJ Alison Becker, hip hop historianmusic director James Auburn, Gangstarr's DJ Premier, and Definitive Jux signees Hangar 18 (emcees Windnbreeze and Alaska, and producer paWL). See padsnkeys.ihigh.com for more information.
In addition to the music contests, iHigh has also hosted several graphic art competitions and even a Halloween costume contest since its launch on September 1st. In November the site is hosting a pilgrim-themed drawing competition, the winning picture garnering some quick cash for the artist.
iHigh.com is a community-building interactive agency for all brands. The social network is designed to build communities around branded sites and competitions as part of non-traditional marketing strategies. Through Incentive-based campaigns, online competitions such as Spittin 16 and Pads-N-Keys, brand ambassador programs, and targeted media buying, iHigh can wrap brands around online communities providing marketing access to the ever-elusive 18- to 35-year-old demographic.
All competitions on iHigh.com are open to anyone who has registered an account with the site. Registration and entry to competitions is absolutely free. The versaitility of the site even allows for registered users to run and manage their own competitions and contests. This versatility is something other social networking sites, such as mySpace and Facebook lack. It is becoming even more vital to the mission of the site as it gears up to launch its own self-contained economy and proprietary currency, called nCents. nCents will allow any user on the site to buy, sell, and trade merchandise and multimedia content on iHigh's social network using cash-back micropayments (nCents). Using iHigh's existing social network, businesses will also be able to create branded communities around products, services, or marketing campaigns.
# # #