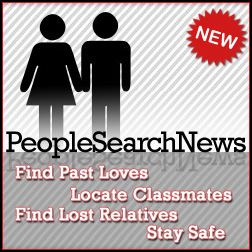 With their technology, you can take a phone number that you had in your high school year book or even from your old little league team roster and use it to find someone
Sacramento, CA (PRWEB) November 14, 2006
With the number of identity theft cases increasing world wide each year, the last thing that many people want to happen is for their social security number to be found out. However, a person's phone number, an equally unique and identifying number, is not only available online but now can be used to locate someone by phone number alone.
According to the online news magazine People Search News.com, people search site PeopleFinders.com is allowing members of the general public access up to more than 30 years of historical phone number ownership records making it easier than ever to find people even with a phone number that may be more than thirty years old.
Often seen as the "end all, be all" of unique and identifying numbers social security numbers can help someone locate another person easily and with great certainty. Online identity protection experts now believe that a person's phone number may be equally as unique and identifiable as other state and federally issued forms of identification.
"People aren't really aware of the power of a home or cell phone number. Anyone from your past, be it friend or foe, can locate you based on your old or current phone number. It's become a matter of best practice to not publish your number on the Internet."
Locating people by their phone numbers is a relatively new phenomenon in the field of online people searching where typically one needs such information as individual's first and last name, phone number and/or social security number to locate someone. The PeopleFinders.com Historical Phone Records Search allows users to locate a person using only a phone number, thus making the process of online people searching quicker and more useful for consumers.
The PeopleFinders.com Historical Phone Records Search allows users to enter a person's current or previous phone number into a search box on the site which then searches billions of propriety database records to locate an individual. The results, states People Search News editor Guy Dubleche, are often astonishing.
With every phone number search, PeopleFinders.com returns a free summary report to the user. This summary report may list:
Names and possible aliases associated with the phone number searched
Age of the person associated with the phone number searched
City and State that the phone number is located in.
Possible relatives (and ages for each) associated with the phone number searched
Possible Businesses/Employment associations for the phone number searched
Once a user has located their subject from the free summary report, the user can then purchase a one time people finder report or a comprehensive background check report on their subject. These reports provide even more detailed information on a search subject including the subject's age, possible current address and phone number, 20 year address history; bankruptcies, tax liens & judgments; property ownership, possible relatives and roommates and neighbors; possible aliases and maiden names, as well as marital history.
"The power that this technology has opened up the world of people searching up to many who previously may have viewed the prospect of locating someone online as unachievable. All you need is a phone number to find someone now. Old or new, it doesn't matter," Dubleche adds.
"With their technology, you can take a phone number that you had in your high school year book or even from your old little league team roster and use it to find someone," states Dubleche.
For more information on phone searches, people searches or the PeopleFinders.com Historical Phone Records Search visit PeopleFinders.com.
About People Search News
Founded in 2006, People Search News is a Sacramento, California based non-commercial online source for people search and people finder related news and information.
Our goal is to provide our readers with up-to-date and relevant articles and news items on people search related information. People Search News features a staff of knowledgeable and seasoned writers with expertise in investigative techniques such as skip tracing, law enforcement, surveillance, people search, genealogy and data mining.
The People Search News staff is also available to answer any and all people search related questions. Currently, our Frequently-Asked-Questions (FAQ) section features answers to many common people search questions. We welcome you to submit your own people search or people finder related questions or suggestions for our site in the "contact us" section.
People Search News is also available via analog mail at the following address:
People Search News
511 9th Street #2
Sacramento, CA 95814
# # #