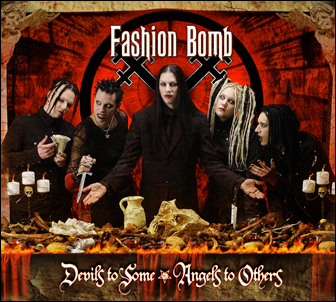 Devils to Some, Angels to Others
CHICAGO, IL (PRWEB) November 14, 2006
In the past we have seen many legendary performers take their helm as the kings of gothic industrial rock music. It's time for them to move over as the new wave of controversy dominates your ipods. The new wave is Fashion Bomb and they have released their first full length album, "Devils to Some, Angels to Others".
If it's impact you are looking for, Fashion Bomb is what you want to hit with. Fashion Bomb has drawn comparisons to Nine Inch Nails, Tool, and Marilyn Manson, yet stakes out their own territory among this peer group. Delivering an intense sensory assault, Fashion Bomb is the next logical step in the evolution of music and performance. Combining Chicago's industrial and metal heritage with progressive and electronic elements, the music will ambush and convert you.
Fashion Bomb's new album "Devil's to Some, Angels to Others" is a sensory assault of driving drum beats, massive guitar, thudding bass and strong, evil vocals. Each song carries a message, and breaks the mold of the "cookie cutter" music so often found on radio and in chain stores.
Currently, Fashion Bomb is touring to support their first full length album "Devils to Some, Angels to Others". Their universal message of individuality and intelligence melded with an arresting creative freedom relates to every fan of music and art.
"Devils to Some, Angels to Others" is currently available at FashionBomb.net as well as iTunes.com, Napster.com, Amazon.com, Rhapsody.com, MusicNow.com, SonyConnect.com, and MP3tunes.com.
Fashion Bomb is a hard rock band from Chicago, Illinois. Fashion Bomb has gained national exposure through magazines, radio, television, internet, and touring. Fashion Bomb has performed with such acts as Marilyn Manson, Iggy Pop, Staind, Genitorturers, Dope, Rasputina, Hanzel und Gretyl, Bile, Pig, Rikets, Crossbreed, Scum of the Earth, Society One and The Birthday Massacre to name a few. Fashion Bomb's videos for "The Line" and "SS" have received airplay on JBTV and MTV2.
Interview Contact: Fashion Bomb Music
Telephone: 773-851-0052
Superdead Records LLC
4350 N. Broadway Suite 903, Chicago, IL 60613
###