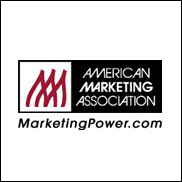 Succeeding In A New World of Media
Chicago, IL (PRWEB) November 14, 2006
Industry experts will meet to address major new developments in marketing, as well as the latest approaches to using new media effectively, measuring return on investment and relating brand equity to profitability at the American Marketing Association's first Mplanet™, November 29 - December 1, Orlando, Fla.
With more than 30 program sessions and over 60 speakers, Mplanet's program was strategically designed to enable marketers to explore new solutions and hear about future trends that will impact 2007 and beyond. The content for Mplanet was developed in collaboration with strategic partners McKinsey and Co., The Wharton School and Spencer Stuart.
"Mplanet creates the ultimate destination for attendees to discover insights, learnings and solutions to today's most pressing marketing challenges," said Dennis Dunlap, CEO of the American Marketing Association. "The AMA is very excited to present the most dynamic and engaging marketing event, from the expert speakers to the interactive program and fresh content. The entire event is designed to stimulate thinking and provide no barriers to exploring new ideas."
MPLANET PROGRAM
Mplanet attendees will be submerged in program content that is tailored to their interests. Content is focused around six core themes that were identified from qualitative and quantitative analysis from marketers:
-- Performance Marketing
-- New Customer Reality
-- Morphing Media & Channels
-- Brand Relevance
-- Disciplined Innovation
-- New Organization Reality
KEYNOTES
-- Randall Stephenson, COO of AT&T, who will challenge attendees' thinking about what lies ahead as technology, new communication channels, and content all converge in a world of unparalleled possibilities for today's consumers.
-- Samuel Palmisano, CEO of IBM, will receive the inaugural Sheth Leadership Medal, given annually to a current or former CEO who has made long-term, transformational contributions to the marketing field.
FORUMS
At forums throughout Mplanet, C-level marketing leaders and luminaries present "podium-free" information--panel discussions, roundtables, interviews and talk shows.
-- "Succeeding In A New World of Media," a highly energized, multi-media talk show hosted by Tom Hernquist, SVP Global Chief Growth Officer, The Hershey Company. He will share strategies for developing marketing communications in a world of convergence of media and channels, and top marketing executives will talk about how they are leveraging new media and channels.
-- "Connecting Marketing Metrics to Financial Consequences," a panel discussion led by David Reibstein, professor of marketing, Wharton, on measuring marketing and integrating ROMI within overall organization metrics.
-- "Connect + Develop: A New Model for Innovation," an interactive session led by Larry Huston, VP Innovation, Procter & Gamble, where attendees will learn about collaborating with suppliers, competitors, scientists, entrepreneurs and systematically scouring the world landscape for proven concepts or ideas that will lead to better, less expensive products faster.
-- "The Digital Age: Implications for Marketers in an Era of Consumer Control," by Gian Fulgoni, Chairman & Co-founder, comScore Networks. A fresh interpretation of the key trends, both current and future, in how consumers use the Internet, including online shopping, streaming audio/video, social networking sites, global Internet usage patterns and the effectiveness of online messaging.
MORE INFORMATION
Details about the event's speakers, schedule and highlights can be found on Mplanet's News Center and Media FAQ pages.
REGISTRATION
Those who wish to register for Mplanet can visit http://www.Mplanet2006.com or call 800-AMA-1150.
ABOUT THE AMERICAN MARKETING ASSOCIATION
The American Marketing Association (AMA) is the largest marketing association in North America. It is a professional association for individuals and organizations involved in the practice, teaching and study of marketing worldwide. It is also the source that marketers turn to every day for information/resources, education/training and professional networking. AMA members are connected to a network of experienced marketers nearly 40,000 strong and include leading marketing academics, researchers and practitioners from every industry.
AMA offers highly acclaimed seminars, workshops and Hot Topic events focused on the immediate needs of marketers, as well as trends shaping the future. AMA's website, MarketingPower.com, is the everyday connection to marketing data, articles, case studies, best practices and a robust job bank. The AMA also is the source for the field's top magazines and journals, including Marketing News. AMA local chapters keep members in touch with the best people and the best practices. For more information on the AMA, please visit http://www.MarketingPower.com.
###