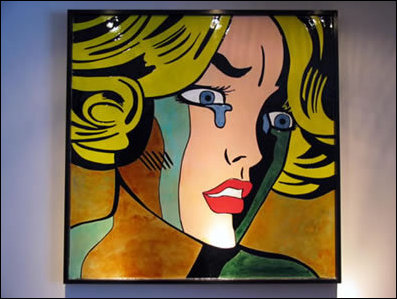 Using just the water-based colors felt like I was just painting
Yucaipa, CA (PRWEB) November 16, 2006
The Concrete Network, the most comprehensive resource on the web for decorative concrete information, is featuring several pieces of decorative concrete artwork showcasing the artistry evolving in the decorative concrete industry. The custom drawings come to life on thin concrete canvases, which are lightweight enough to be hung on a home's interior wall.
By creating a frame out of light pine wood, a thin cementitious overlay material is applied in two layers. The artist hand sketches a design onto the concrete overlay surface and then engraves the lines of the artwork to create a 3-D effect and add greater dimension.
For color, acid stains and dyes have been found to create the best colors for subtle earth-tones, whereas water-based stains and dyes are best for bright colors. With a combination of both, the perfect colors and tones can be created. Finally, a solvent-based urethane is used to seal the work, giving it a shiny look bringing out the color.
Created by Scott Bye, of Action Concrete Services in Michigan, the featured art pieces are typically 4 by 4 feet, and each one takes about 40 to 50 hours to complete. One of the most important things to Bye is to keep the feel of the concrete and its texture evident in the artwork.
"Using just the water-based colors felt like I was just painting," says Bye. "I didn't want it to look 'painted'. Using the acid stains lets more of the concrete show through." Bye strives to keep the characteristics of the concrete apparent, using the concrete as the art as much as the hand-sketched design.
Bye began creating the hanging art pieces in 2003 as a way to experiment and test various products, and has been influenced by Andy Warhol, Van Gogh, Roy Litchenstein's Pop Art style and Frank Lloyd Wright.
About the Concrete Network
Established in 1999, The Concrete Network's purpose is to educate consumers, builders, and contractors on popular decorative techniques and applications including stamped concrete, stained concrete floors, concrete countertops, polished concrete, and much more. Over 872,000 visitors researched The Concrete Network Web site in June, 2006.
The site excels at connecting buyers with local contractors in their area through its Find-A-Contractor service. The service provides visitors with a list of decorative concrete contractors throughout the U.S. and Canada, and is fully searchable by 22 types of decorative concrete work and 199 metropolitan areas throughout North America.
Artwork photos courtesy of Action Concrete Services.
###