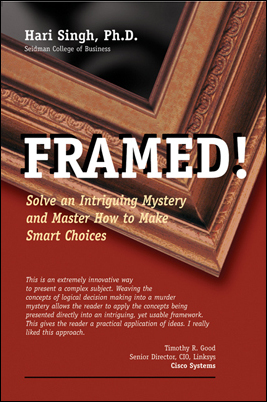 This is an extremely innovative way to present a complex subject. I really liked this approach
Grand Rapids, Michigan (PRWEB) November 15, 2006
Professors, trainers and educators can now let their students unwind with a good mystery while learning business tactics at the same time with FRAMED! Solve an Intriguing Mystery & Master How to Make Smart Choices. Published by HRD Press, Inc. and written by Seidman School of Business economics professor Hari Singh, Ph.D., FRAMED! is an entertaining "whodunit" book on decision-making, designed to entertain and educate students.
Dr. Singh, a fan of mystery novels, turned to fiction to explain his subject because students often find the systematic, analytical decision-making strategies taught in business school difficult to understand. Recently reviewed in the New York Times, the book also includes a summary of important concepts, a checklist for common pitfalls, discussion questions, suggested readings, teaching notes and lesson plans.
"One reason that making decisions can be hard is that the person in charge is part of the picture — or in academic jargon, they are 'inside the frame,'" explains Dr. Singh. The professor added that he recently conducted a seminar for 15 Grand Valley administrators who read the book. He broke them into groups and asked them to apply the principles to solve work problems. "After reading the book, they can do it by themselves," he said. "Group discussion among executives, within the context of their own problems and search for solutions, is a key learning tool."
"Framed! is a wonderful book. The book is amazingly well-written and engaging. Although I work in this area myself, I learned a number of new things by reading Framed!" says Paul Zak, Associate Professor, Claremont Graduate University.
"For educators and students who believe learning is most effective when it is interesting and engaging, Framed! is supplemental economics text," adds Shlomo Maital, Visiting Professor MIT
"This is an extremely innovative way to present a complex subject. I really liked this approach," notes Timothy R. Good, Senior Director, Cisco Systems
Teaching notes are available to at http://faculty.gvsu.edu/singhh/ or by e-mailing singhh(at)gvsu.edu.
FRAMED! Solve an Intriguing Mystery & Master How to Make Smart Choices is available at HRD Press for $24.95 http://www.hrdpress.com/frame. To request More Information (and Save 25% this Month if Ordering), provide your contact information at http://www.hrdpress.com/reg or by email at reviews(at)hrdpress.com and reference Code 06HR1.
This press release was distributed through eMediawire by Human Resources Marketer (HR Marketer: http://www.HRmarketer.com) on behalf of the company listed above.
###