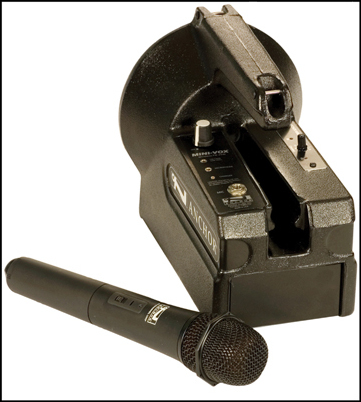 Torrance, CA (PRWEB) November 15, 2006
Anchor Audio, Inc. -- the industry leader for over 25 years in portable public address systems -- announces the next generation of the durable MiniVox. This trustworthy portable PA system delivers 108dB's of intelligible speech from one, small self-contained portable sound system that is designed for users with no technical knowledge. The MiniVox is designed for giving speeches in an indoor or outdoor assembly, making sports announcements in outdoor venues or giving instructions on an athletic field.
Anchor Audio continues to meet the needs of its customers by offering the 16 channel UHF wireless portable public address systems at the same price as the single channel VHF. Because the UHF is selectable, a simple flip of a dial on the microphone and receiver eliminates any chance of interference from local broadcasting sources. The UHF microphone delivers a range of 250 feet from the receiver. Anchor offers headband, collar, lapel and handheld microphones -- all field-tested with excellent marks for pick-up and clarity.
Anchor's MiniVox portable public address systems is truly flexible and uses nine "C" cell batteries. The wireless receiver does not increase the overall weight, just 5 pounds -- great for field transportation. All these features make for louder and clearer speech projection -- a must for any indoor or outdoor use from a Little League baseball game to emergency crowd control.
Just grab it and go. With the MiniVox portable PA system you're ready for any situation. It's lightweight, loud and easy to carry. Many report it's the most reliable "little PA system" on the market. Emergency responders like wired microphone and convenient shoulder strap. Cheerleaders, band directors, auctioneers and firemen appreciate the flexibility of battery operation and the range of the wireless microphones.
Anchor Audio manufactures its Mini-Vox portable sound system in Torrance, California, using a total quality concept, which includes 6 quality control tests. portable public address systems are backed by a six year warranty, the longest in the industry. Anchor's dedication to quality has resulted in substantial military, education, and police department sales.
Anchor Audio, Inc.
Debbie Lombard
Phone: (310) 784-2300
Fax: (310) 784-0066
# # #