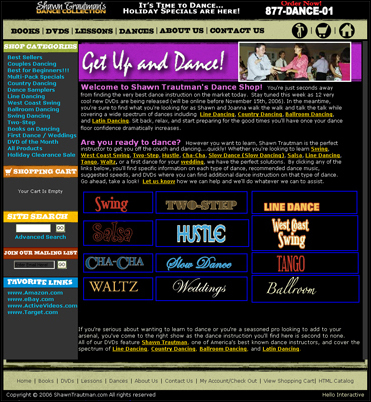 Shawn has a unique natural ability to connect with each and every one of his students both in person and through video
Dunedin, FL (PRWEB) November 15, 2006
Shawn Trautman wants to teach everyone in America the hottest dance moves - in their own living rooms. With his new series of dance lesson DVDs scheduled for a November 15th, 2006 release, he's hoping to reach more students than ever before who want to learn to dance, as the DVDs include dance instruction on ballroom dancing, country western dancing, swing, west coast swing, and slow dancing.
Trautman, a coach and mentor to numerous World Champion dancers and the Director of Operations of Xpress Innovations, Inc. ([XI Dance™), designed this new series of discs to include several dances that have never before been released in his Dance Collection videos. The twelve new DVDs teach beginner viewers how to dance the Swing, do the Two-Step and develop West Coast Swing moves in three discs each. In addition, three bonus sampler discs covering slow and romantic dances like the Waltz and Rumba, country western dances like the Triple Two-Step and Polka, and Ballroom and Latin dances like Salsa, Cha-Cha, and Tango are all being released as standalone instruction tools.
"Shawn has a unique natural ability to connect with each and every one of his students both in person and through video," explains Xpress Innovations, Inc. Marketing Manager Joanna Trautman. "Shawn inspires his students by empowering them with his charisma, knowledge, and style."
Xpress Innovations, Inc., home of XI Dance™, is a Tampa Bay, FL-based dance school and producer of several of the most popular books and videos designed to help everyone learn how to dance in a fun and effective way. The new series of Shawn Trautman's Dance Collection will be available directly from the Xpress Innovations, Inc. website at xidance.com, where visitors will also find re-authored and re-mastered versions of Trautman's 14 original DVD titles.
By the end of November, xidance.com will offer streaming video previews of the titles aimed at helping viewers [learn how to dance Two-Step, line dancing, and dozens of other styles. The site currently provides a helpful message board where visitors can communicate directly with Shawn Trautman and other top instructors.
The growing series of XI Dance™ DVDs has aided tens of thousands to learn how to Swing dance and feel more comfortable performing a wide range of other popular styles, and it has grown to become one of the best-selling dance collections on numerous websites from around the world. Key features of the videos include close-ups of the feet, tips and pointers for leaders and followers, clearly communicated instructions and split-screen technology that helps viewers see the instruction from several different angles.
To review and purchase videos and books that make it easy to learn how to swing dance, learn how to dance two step and perform several other moves from slow dancing to the Hustle, please visit [xidance.com.
About Xpress Innovations, Inc.:
Tampa Bay-based Xpress Innovations, Inc., home of XI Dance™, offers more than two dozen instructional DVDs hosted by renowned dance coach Shawn Trautman. The growing series covers several of the most popular dance styles in a fun, relaxed and effective method. Instructional books and detail on dance lessons in the Tampa Bay area are also available through their website at xidance.com.
###