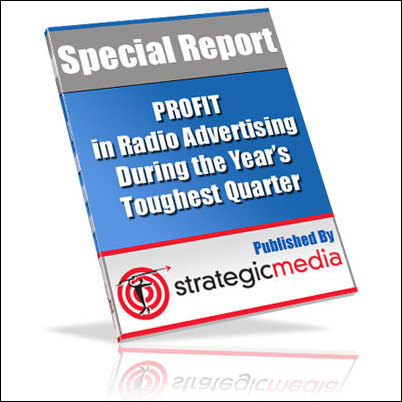 The stakes are really high
Portland, Maine (PRWEB) November 16, 2006
A new report released by direct response radio advertising veteran Jeffrey Small, CEO of Strategic Media, http://www.strategicmediainc.com with over a decade of experience in direct response radio advertising, illuminates the three keys to handling the perils of advertising on radio during the fourth quarter.
During Q4, a number of factors combine to create a "perfect storm" that can dramatically impact radio advertising profitability. Mr. Small reveals what these factors are, why they exist, and how to handle them to ensure your radio campaign remains profitable.
"The stakes are really high" Mr. Small says of handling radio advertising properly during Q4. "The first quarter is a very strategically important one for radio advertising campaigns because it is a favorable time for radio advertisers relative to the other quarters. How you handle your radio campaign in Q4 will have dramatic implications for your ability to profit not just in Q1, but for the rest of the year. I created this report to help radio advertisers understand these issues so they can make decisions that maximize the profitability and longevity of their radio advertising campaigns."
Strategic Media, Inc., http://www.strategicmediainc.com, is a direct response radio advertising agency with over a decade of experience building large radio advertising campaigns that generate accountable results and profitable new customers. The Company is a full service direct response radio advertising agency offering radio advertising strategy, radio commercial development, and radio media buying profitability management. Jeff Small, CEO and Brett Astor, Vice President both contribute to the direct response radio industry's first blog, The Radio Sage Blog, located at http://strategicmediainc.com/radio-advertising-blog, where they also share their views on the latest news and trends in radio advertising.
###