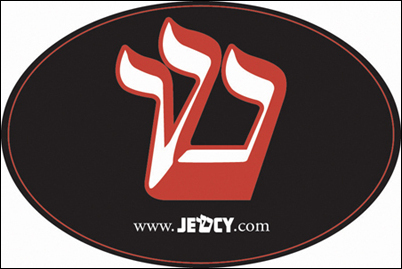 Jewcy has become a cultural icon at the forefront of a new wave of Jewish culture and pride.
New York, NY (PRWEB) November 15, 2006
Jewcy, the pioneering company that ignited a new wave of Jewish identity with its provocative T-shirts and dynamic live events, launches its ideas-and-culture magazine and online store today at http://www.jewcy.com. Jewcy expresses a new sense of Jewish pride and identity, featuring fierce and funny original content by some of the nation's top writers and integrating it with user-generated content, Web 2.0 technologies such as user profiles, social networking and a searchable events database. Jewcy is a live, messy, unpredictable twenty-four hour a day online conversation.
Jewcy is an experiment in irreverence, humility, collaboration, and a journalism of ideas. The magazine will chronicle both the people changing Judaism and those it is helping to change; it challenges conventional wisdom and sheds light on (and makes light of) unquestioned ideologies, sloppy thinking, and agendas that help shape policy, culture, behavior, and belief.
Edited by Tahl Raz, a former senior editor at Fortune Small Business and the co-author of the best-selling book Never Eat Alone, Jewcy's editorial board includes Jeffrey Goldberg, A.J. Jacobs, Alan Light and Jeff Sharlett. The magazine's mission aims to reinvigorate Jewish media--a loamy literary tradition that has gone largely unchanged for 100 years. Jewcy covers faith, pop culture, politics and public affairs, and seeks to earn its place as a premier online Jewish media and entertainment outlet for progressive free-thinkers.
"It's a remarkable moment to be a Jew," says Raz, "In the thick, jumbled canvas of contemporary American life, there's not only an unparalleled opportunity for people hell-bent on making a meaningful difference with their lives, but also an unprecedented uncertainty about the relevance of old traditions and institutions. This much we DO know: we're hungry. Hungry for meaning. For community. For continuity and clarity and inspiration. For intelligent, thoughtful analysis of consequential ideas and issues - and Jewcy is creating a place for this analysis."
The articles, columns and daily items are informative and thought-provoking, and include:
Jewcy's blog, the Daily Shvitz, where Jewcy editors and writers spin the news and the latest from inside Jewcy, and FaithHacker, a practical guide to spirituality on the web, a religious Whole New Earth Catalogue circa 2006, a bad Jews bible of the new Jew world.
The Perfect Jew, where Jewcy novelist Jon Papernick begins an edifying, and often hilarious, journey to understand and possibly recover a religion he's rejected.
Self-Help (dear Abby, minus Abby), writers will answer the kind of questions we all face - Should I take Adderall? Should I have a threesome? Should I keep the threesome within the faith? Should I study Torah? - but with external expertise, that near-perfect decision-making environment few of us are ever afforded.
Kicking off the Big Question department (smarties in an email shootout), author and radio host Dennis Prager squares off over the pride and rage of disbelief with Sam Harris, author of The End of Faith: Religion, Terror, and the Future of Reason.
Tod Goldberg's quirky efforts to unravel Jewish mysteries, trivial and not so.
Thought-provoking explorations of cultural assumptions, such as "Why Israelis Are Pricks"
Klatch department, where industry insiders talk shop, Jewcy's editor-at-large Elisa Albert (author of the recently published How This Night is Different) moderates a surprising, comical, and at times painfully honest dialogue between some of the hottest young novelists today.
Marketplace featuring stylish clothing, books and music, and a line of Judaica for a modern lifestyle that actual trendsetters will be proud to wear, display and discuss. Top sellers include Jewcy's Heritage apparel line, which re-imagines iconic images of New York's Lower East Side, and an exclusive design by famed Korean artist David Choe.
The new Jewcy.com is dynamic, and constantly involving and evolving; Jewcy never stands still. On the Interact page, users can collaboratively edit one of the ongoing projects in the wiki and forums. Jewcy's event-sharing network allows both users and organizations to post and publicize the latest Jewish happenings - a central clearinghouse for everyone everywhere seeking an enriching cultural diet. Jewcy encourages its members to set up user profiles so they can learn from/about one another, get together for coffee and possibly something more, and generally stoke a new social network.
With its iconic logo and "Shalom Motherfucker" T-shirts, Jewcy injected an electrifying dose of pop culture into Jewish pride. Its clothing was featured in New York Magazine, Time Magazine, Time Out New York and other publications throughout the world.
As its daring clothing captured the interest of young Jews around the world, Jewcy navigated that goodwill into a series of high profile live events aimed at further engaging its audience. In 2004, Jewcy produced its first "A Jewcy Chanukah" event in New York City, featuring performances by Sarah Silverman and Jackie Hoffman. That same year, it produced the critically acclaimed hit Off-Broadway play "Modern Orthodox" directed by James Lapine ("Spelling Bee") and starring Molly Ringwald and Jason Biggs ("American Pie").
In 2005, Jewcy produced its second annual "A Jewcy Chanukah." With over a thousand attendees and performances by Perry Farrell, Triumph The Insult Comic Dog and Rachel Dratch (SNL), the event was the subject of a subsequent feature in the New York Times Style Section. Jewcy is currently producing the hit Off-Broadway show "25 Questions for a Jewish Mother" by Judy Gold. The New York Times called it "Fiercely funny, honest and moving."
With What Matters Now as its raison d'etre, Jewcy recognizes that although the world we live in has changed, the contours of the quest for meaning remain the same.
"Jewcy is a magazine born of and for a time when technology has made personal expression far easier and far more democratic," concludes Raz. "The site blends original content by terrific writers, editors and artists and content that users generate themselves with the new tools of participatory media, such as blogs, comment sections, wikis, and forums. Jewcy wants users, participants; not just readers."
About Jewcy:
"Jewcy has become a cultural icon at the forefront of a new wave of Jewish culture and pride." - Guardian
"[Jewcy] is the accoutrement of choice for a new breed of Jewish hipsters..."- Washington Post
Jewcy is an entertainment and media company devoted to helping Jews (and anyone else) find, use, share, and expand meaning and community. With its online site, theatrical productions, and steady diet of exciting events, Jewcy is the premier Jewish media and entertainment outlet for progressive free-thinkers. Jewcy is currently producing the Off-Broadway production of "25 Questions for a Jewish Mother," and previously produced "Modern Orthodox," starring Molly Ringwald and Jason Biggs, as well as a Reading Series and its high-profile "A Jewcy Chanukah" concerts.
Jewcy.com features:
A MAGAZINE featuring fierce and funny original content by some of the nation's finest writers and artists covering faith, pop culture, politics and public affairs.
An EVENTS-SHARING NETWORK allowing both users and organizations to post and publicize the latest Jewish happenings -- a central clearinghouse for seekers everywhere hungry for an enriching cultural diet.
A SOCIAL NETWORK allowing Jewcy members to connect to each other through our online community and user profiles.
A STORE providing young trendsetters both the best offerings of the cultural vanguard and a wide range of Judaica to equip them to live a modern Jewish lifestyle.
If you're talking, then Jewcy is succeeding. http://www.jewcy.com
# # #