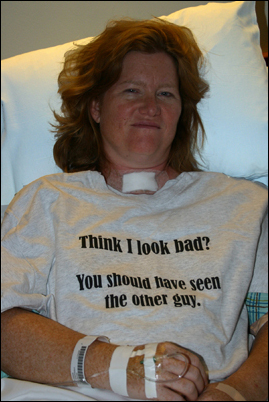 Wilmette, IL (PRWEB) November 28, 2006
For people with chronic or difficult illnesses, humor can often be the best medicine.
MedTees.com, an online store specializing in humorous and inspirational merchandise for people with chronic medical conditions, met its goal of contributing over $1,000 to various charitable organizations for its first year in operation.
Started nearly two years ago by a cardiologist and psychologist husband-and-wife team, MedTees.com has grown to over 160 shirt and merchandise designs for various medical conditions. Over half of the ideas for the merchandise was contributed by patients themselves. And they strike to the core. Take, for instance, the shirt for mastectomy patients that says, "One fake, one real, guess which?" or for the lung patient, a shirt that says, "I inhale."
"In our society today and particularly in the media, it is not okay to be sick, suffer from a chronic illness, or seem infirm," says Westby G. Fisher, MD, one of the MedTees.com co-founders. "Conventional wisdom says if illness has to happen at all, illness should be overcome, fixed, and left behind. The reality is that greater numbers of people, including children, strive for a good life alongside long-term health challenges. We have few role models and few useful stories about just living with a less-than-perfect body, or less-than-perfect health. How we cope with our disease and yet raise awareness about the struggles in a humorous and supportive manner is what we're all about. This is where the t-shirts come in."
But there are other benefits, too. "Patients feel empowered when they can proclaim their strength over adversity by wearing one of our shirts," said Diane G. Fisher, Ph.D., a clinical psychologist who co-founded the site with her husband. "It takes guts to wear a t-shirt when you're an amputee that says, 'I don't have to wait for the other shoe to drop' or for the patient with an automatic cardiac defibrillator saying, 'Careful, I'm Wired.' People laugh, but it also takes illness out of the closet and helps others."
The shirts have appeared in multiple venues: from Capital Hill to rock concerts to ABC News, and from hospitals to peoples' homes all over the globe.
Ten percent of proceeds from the sales of the shirts are donated to various well-known charities selected by patient-contributors. Charities supported include the American Cancer Society, Heart Rhythm Foundation, Juvenile Diabetes Research Foundation, American Organ Transplantation Association, American Academy of Orthotics and Prosthetics, American Lung Association, Arthritis Foundation, and the Crohn's and Colitis Foundation of America, among others.
So if one sees a shirt that says "Death, Been There Done That, Got the T-shirt," realize that the wearer has probably died once, recovered to live again, and has the guts and good humor to say so while knowing they have donated to a good cause.
About MedTees.com
MedTees.com is an online health-related t-shirt and merchandise store created by a cardiologist and clinical psychologist to empower people with chronic or difficult illnesses by providing humor, information, and community while contributing to many research and advocacy foundations.
MedTees and MedTees.com are registered US trademarks.
# # #