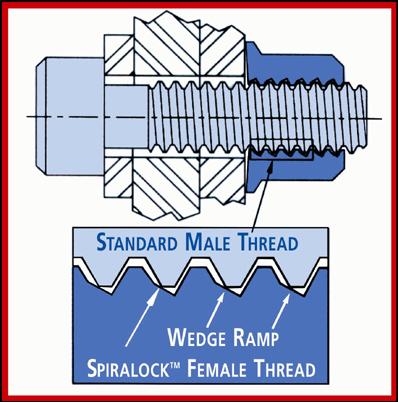 The threads helped us match each patient specifically
Madison Heights, MI (PRWEB) November 15, 2006
With the lives of patients as well as the reputations of surgeons and medical device companies at stake, medical implants face some of the most rigorous performance requirements of any industry. Despite all the recent technology applied to implants, they still require simple fasteners to function properly. Because these fasteners are so critical, medical device manufacturers have been taking advantage of self locking threaded fasteners with a unique internal design that not only combats vibration and shock but also safeguards product quality and performance whether the implant is permanent or temporary.
Through the physics of the thread locking design itself, Madison Heights, Mich.-based Spiralock Corp. is offering an alternative thread form designed to address the fastener loosening and stripping problem. The secret to Spiralock's self locking threaded fasteners is a 30º "wedge" ramp cut at the root of the female thread. Under clamp load, the crests of the threads on any standard bolt are drawn tightly against the wedge ramp.
Biomet, for example, used Spiralock self locking fasteners for and elbow replacement device that joins a polyethylene bearing of an ulna component with two cobalt chrome articulating surfaces on the humeral component.
"We had to find a way to lock the articulation together in a compact form without violating the elbow condyles," said Matt Brzozowski, a Biomet Extremities Product Manager. "To replicate anatomy as closely as possible, we not only had to keep the threads secure, but also wanted to provide a simpler approach to the articulating components should additional surgery be necessary."
C-clips, specialized retaining rings, and other fasteners proved too cumbersome and costly for the design. For vibration control, loading, and shear strength, Spiralock self locking fasteners were chosen in conjunction with titanium screws. The titanium screws survived a shear test to approximately 2,700 lbs., at which point the screws broke but remained locked in the thread form.
Besides vibration resistance and trustworthy thread locking, Spiralock's self locking threaded fasteners also can provide anatomic and surgical benefits.
"The threads helped us match each patient specifically," says Brzozowski. "Because the bearing is consistent with respect to the screw, we're able to match any humeral sized component with any ulna sized component.
Spiralock's self locking threaded fasteners also helped medical device manufacturer Boston Endo-Surgical Technologies, Inc., based in Hampton, New Hampshire, improve an innovative internal limb-lengthening device, currently used to lengthen the femur or tibia in cases where bone has stopped growing or has been shattered. Prior to the development of the internal limb-lengthening device, up to eight external pins had to penetrate from the skin to the femur or tibia in order to attach an external device, with a likely possibility of infection.
Unusual left-hand Spiralock self locking fasteners now firmly join the limb-lengthener's lead screw with a redesigned nut-screw, and with appropriate torque applied, the screw joint will not loosen. When surgically placed in a patient's femur or tibia, the appropriate bone can now be lengthened up to eighty millimeters while the patient remains mobile.
Spiralock makes self locking threaded fasteners as small as #0-80 (80 threads per inch) as well as double lead threads, which spin on twice as fast with every rotation to decrease time in surgery.
Spiralock Corporation
Kate Turowska
Phone: (248) 543-7800
Fax: (248) 543-1403
Madison Heights
###