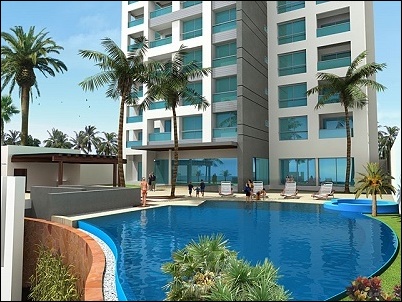 Mazatlan, Sinaloa, MX (PRWEB) November 16, 2006 -
Living in style by the sea is a dream within reach made possible by the award-winning developer, Impulsa, with the pre-construction condominium auction of Horizon Sky Residences at Mazatlan, Mexico, according to Leonard Hartsook of The Redfield Group, the high-end real estate auction company conducting the sale. 43 pre-construction condos will be offered at auction Dec. 9.
Centrally located on the Malecon, the longest beachfront boardwalk in Mexico, each unit at Horizon Sky Residences enjoys unobstructed views of the ocean with breathtaking sunrises and sunsets. These condominium units are constructed from only the finest quality grade materials. The impeccable interiors include tile floors, granite countertops, wood cabinets, appliances, and Jacuzzi tubs. A drinking water system in the refrigerator and kitchen faucets is also included. Additional amenities provided are 24-hour security, deeded parking, pool, fitness room and conference room.
Among the 43 units up for auction are one Penthouse and one Master Suite as well as two and three-bedroom units. The suggested opening bid for each unit is $195,000; however, one unit at Horizon Sky Residences and one unit at Tenerife will be offered Absolute at the auction, meaning the highest bidder wins regardless of the price.
The auction is set for 2pm on Saturday, Dec. 9. Online bidding is available through Proxibid for those who cannot attend the live auction. For more information and auction terms, call The Redfield Group toll-free at (866) 673-9270 or visit redfieldgroup.com to download an auction packet.
Impulsa
Since the year 2000, Impulsa has built more than 2,500 homes and condominiums with a total market value of $100 million. Impulsa's commitment to excellence has made it the preeminent developer of quality real estate in the State of Sinaloa. In 2002, Impulsa was presented with the Quality Award by the City of Culicán for its housing development "Colina del Rey." Impulsa is certified in the ISO-9002 quality certification and continually strives to offer its customers a quality product, security, reasonable prices and exceptional service.
Mazatlan: "Pearl of the Pacific"
The second largest coastal city in Mexico, Mazatlan is like no other city in the world. With 17 miles of golden sand beaches, beachfront hotels, seafood restaurants, nightclubs, bright lights and autentic Mexican culture, Mazatlan is one of the most popular resorts in Mexico. Known as the "Pearl of the Pacific," over 400,000 people call Mazatlan home, including many thousand
Canadians and Americans.
A strategic seaport for over 500 years, Mazatlan is rich in tradition, history and culture - from old town with its colorful 19th century buildings and churches, to the beautifully restored architecture of the Angela Peralta Theater, an 1890's cathedral, the Pino Suarez market and dozens of restored buildings in the downtown area.
Today, Mazatlan is Mexico's western cultural center, home to many famous artists, singers and performers. Mazatlan plays host to many events and festivals, including Carnaval, the world's third largest Mardi Gras celebration, golf tournaments, a marathon, a triathlon, fishing tournaments, motocross and more.
There are endless attractions in Mazatlan. With an abundance of sunshine and an average temperature of 82 degrees, Mazatlan is a place where people are eager to be outdoors. Outdoor enthusiasts enjoy Mazatlan's world class sport fishing, sailing, surfing, kayaking, snorkeling, sunbathing and other water sports, as well as waterfowl and deer hunting. Golfers take advantage of the 18-hole Estrella del mar course which stretches along two miles of coastline or the 27-hold El Cid championship golf course.
Several islands in the bay off Mazatlan make lovely day excursions, plus there are several interesting Colonial villages in the area to explore. The Golden Zone boasts great shopping.
Fine dining in Mazatlan is abundant with traditional Mexican cuisine as well as Italian, American, Japanese, Chinese and Spanish fare served in casual atmospheres at reasonable prices. After dinner activities are endless - danching, live music and festive watering holes are plentiful. The disco scene is very big in Mazatlan with some of the trendiest late-night clubs located along a stretch of beach called Los Sabalos.
Mazatlan is home to the largest shrimp-fishing fleet in the Pacific, a major brewery, a large coffee roasting plant, and other important industries. Mazatlan boasts the world's highest lighthouse and Mexico's only seaside theater, Teatro Angela Peralta. Most of all, Mazatlan embodies the true warmth and hospitality of Mexico.
About The Redfield Group
Based in Rainbow City, Alabama, The Redfield Group, Inc., is one of the nation's fastest growing high-end real estate auction firms. The Redfield Group is dedicated to offering services that meet the demand of today's market, and is committed to customer satisfaction.
Founder Mike Fisher has served as President and Chief Executive Officer since the inception of The Redfield Group. He has assembled a team of the most experienced high-end real estate professionals in the auction industry. This team has been involved in well over 1,000 auctions and has sales approaching $1 billion. Their past client list reads like a "Who's Who" of America's most respected business, entertainment and athletic professionals. Fisher has been active with auctions for over seven years and has been involved in the selling of some of the most exclusive real estate in the United States and the Bahamas.
Published by ASMarketingCenter.com a division of http://www.auctionservices.com and the http://www.nationalauctionlist.com.
Contact Information:
The Redfield Group, Inc.
2810 Rainbow Drive
Rainbow City, Alabama 35906
Phone: 256-413-0555
Toll-Free: 866-673-9270
Fax: 256-413-0552
Web: http://www.redfieldgroup.com
###