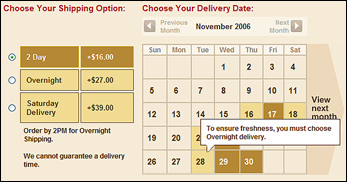 We looked at the other calendars online, and we found them lacking
WINCHESTER, MASSACHUSETTS (PRWEB) November 16, 2006
As online sales of perishable foods increase, retailers face a challenge in explaining complex shipping rules and pricing to their customers. 1-800-Bakery.com has solved that problem by launching an innovative new calendar ordering system that gives their customers complete control over pricing and delivery dates.
"We looked at the other calendars online, and we found them lacking," said Senior Producer Derek Gerry. "We wanted two things -- simplicity, and understandable information. We've managed to deliver both in an interface that empowers our customers."
Shipping perishables is not as simple as shipping books, music or clothes. Most products need to be delivered in two days or less to arrive fresh. Attempting to explain that in text caused confusion for 1-800-Bakery.com's customers and forced the company to limit product availability to certain days of the week.
The new calendar allows customers to choose a shipping method, then presents available shipping days. If a specific delivery day isn't available, a dialog box appears when the customer mouses over the date, offering an explanation. This allows the new calendar to account for holidays, bakery closings and the delivery times needed to make sure products arrive in perfect condition.
"We need to ship layer cakes overnight for Tuesday deliveries," explained 1-800-Bakery.com President Stephen Pazyra. "They'd melt if we shipped them over the weekend. This calendar explains that and lets the customer clearly see the savings if they decide to ship something for Wednesday instead of Tuesday."
1-800-Bakery.com developed the initial logic and implementation in-house, then turned to German-based B2Services, Inc. for design and Chicago-based Olive Innovations for programming. The new calendar will eliminate customer-service issues caused by incompatible delivery dates and shipping methods, and offers an added bonus in allowing the company to restore Monday delivery on more than 25 products that are durable enough to ship over the weekend.
Founded in 2004, 1-800-Bakery.com delivers specialty cakes, cookies, pastries and confections from a collection of hand-picked and award-winning bakeries to addresses throughout the continental United States.
###