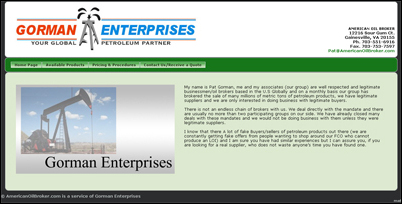 We are legitimate oil brokers
Gainesville, VA (PRWEB) November 16, 2006
Internet based oil trading attracts a number of questionable brokers looking for quick trades and huge commissions. Jet fuel buyers, M100 fuel supplier outfits, and companies that sell or buy D2 items are feeling the effects caused by the glut of dubious Internet brokers.
These middlemen create paper chains of buyer and seller agreements, with each link in the chain vying for a commission on every barrel of oil or metric ton of fuel moved. With wholesale gasoline prices in a constant state of flux, and the relatively recent entrance of petroleum products sellers from Russia and Nigeria to the ever-growing fuel consuming global market, the stakes are high.
M100 fuel supplier companies, along with suppliers of D2 items and jet fuel have grown wary of this endless chain of brokers promising direct connections with long term contract buyers. Their suspicion is evidenced by visceral warnings in their posted petroleum offerings against broker involvement or contact.
Gasoline companies and other businesses on the purchasing side have also been burned by purported oil brokers. Internet solicitations to buy D2 items and other fuel products commonly put forth glaring statements like, 'Even though we have said no brokers, brokers still continue to waste our time. No brokers. No exceptions.'
"We are legitimate oil brokers," says Pat Gorman, Principal and Owner of Gorman Enterprises out of Gainesville, Virginia, which sells M100, D2, jet fuel, REBCO crude oil and gasoline products. But in the current environment, Gorman Enterprises exercises caution when dealing with inquiries which often come from brokers pretexting as legitimate fuel buyers.
"On a monthly basis, we want to supply the world with oil," states Gorman, but continued distraction by broker chains looking for a quick profit have forced Gorman Enterprises to pre-qualify prospective buyers before beginning to tender a Full Corporate Offer (FCO) on petroleum products it offers for sale.
Legitimate brokers like Gorman Enterprises represent M100 fuel supplier mandates, linking them with buyers from around the world. M100 is 100% methanol which is often used as a gasoline additive to help reduce fuel emissions.
Companies who want to buy D2 items, crude oil or jet fuel at competitive prices can also be connected directly with seller mandates through brokers like Gorman Enterprises, who understand source country business requirements and exporting procedures.
For more information about petroleum products offered through Gorman Enterprises, visit AmericanOilBroker.com.
About American Oil Broker:
Based in Gainesville, VA, American Oil Broker is operated by Gorman Enterprises, an experienced broker in the sale of petroleum products to large scale buyers around the world.
###