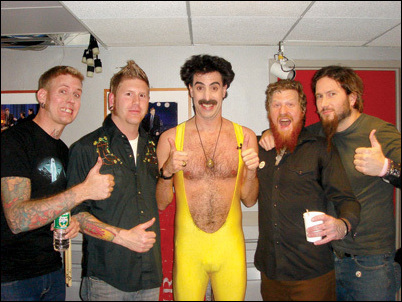 New York, NY (PRWEB) November 16, 2006
Mastodon will be hitting the road in support of their critically acclaimed Reprise Records release, Blood Mountain. The tour will include special guests Converge and Priestess, and will embark on many cities and smaller areas such as Athens, Knoxville, St Louis and Sayreville. There will be a special pre-sale for select shows beginning November 15. Go to http://mastodon.frontgatetickets.com to get your tickets before everyone else.
"King's of the Metal Underground"
--Blender Magazine (4 out of 5 live review)
"These guys are seriously great musicians, I'm very impressed."
-- PasteMagazine.com
"Be Scared. Very Scared."
--Maxim Magazine (4 out of 5 review)
Prior to Mastodon's successful European tour opening for Tool earlier this month, the band stopped over in New York City to give a strong performance on Late Night with Conan O'Brien, whose guest star was Kazakh movie star Borat (Photo: http://www.pitchforkmedia.com/page/news/Mastodon_Meet_Borat#39695).
Also check out a stream of the performance at http://streamos.wmg.com/wmedia/wea/a/b/c/vid/wbr/273714_11022006_01_300.wvx. The band returns from Europe in December and begins their headlining tour in January. Mastodon's single "Colony of Birchmen" is currently in regular rotation on Fuse Television's Uranium. And be sure to tune into MTV2's Headbangers' Ball this Saturday, November 18th, for the video premiere of "Colony of Birchmen."
Radio's response to "Colony of Birchmen" has been rapturous. Mastodon has been #1 at Metal Radio as they enter into Active Rock programming. The band is also firmly at #1 on CMJ's Loud Rock college chart.
Mastodon Headlining Tour Dates:
26-Jan Culture Room; Ft Lauderdale, FL
27-Jan House of Blues; Orlando, FL
28-Jan Jannus Landing; St. Petersburg, FL
30-Jan Beta Bar; Tallahassee, FL
31-Jan 40 Watt Club; Athens, GA
01-Feb Blue Cat's; Knoxville, TN
02-Feb Rocketown; Nashville, TN
03-Feb Pop's; St Louis, MO
05-Feb First Ave; Minneapolis, MN
07-Feb The Orbit Room; Grand Rapids, MI
08-Feb Newport Music Hall; Columbus, OH
09-Feb Rex Theater; Pittsburgh, PA
10-Feb Starland Ballroom; Sayreville, NJ
11-Feb Lupo's; Providence, RI
13-Feb Crocodile Rock; Allentown, PA
14-Feb Water Street Music Hall; Rochester, NY
15-Feb Northern Lights; Albany, NY
16-Feb Toad's Place; New Haven, CT
17-Feb 9:30 Club; Washington, DC
18-Feb Norva; Norfolk, VA
For more information on Mastodon, contact:
National: Fernando Aguilar at Warner Bros./Reprise Records Publicity
(212) 707-3257
Tour Press: Angela Burke at Warner Bros/Reprise Records Publicity
(818) 953-3628
###