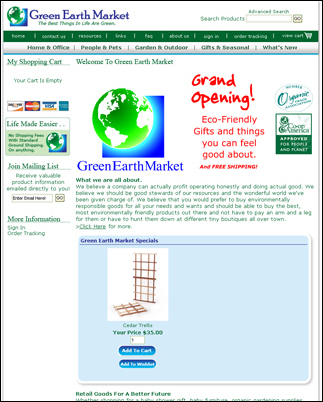 I believe most people do care about the environment, and would act on that concern in their lifestyle and consumer choices if the means were made available, and simply put in front of them
Dallas, TX (PRWEB) November 30, 2006
In 1991, Patrick Gibbons conceived an idea for an affordable, accessible store where consumers could select from all eco-friendly products for virtually every want and need. But it took fifteen years, the expansion of e-commerce and thousands of hard-earned lessons in business and management for Gibbons to find the right opportunity to make his dream come true. Today, just in time for the Christmas shopping season, he and the entire environmental community will celebrate the official grand opening of The Green Earth Market at thegreenearthmarket.com.
The Green Earth Market specializes in offering healthy, clean and energy efficient products that are organically produced close to home in North America, or by indigenous peoples in South America and Africa from recycled or natural materials. Its growing selection of items ranges from things as small as organic baby products like blankets and hats to large outdoor cedar furniture. The online catalog is also stocked with unique thank you gifts like beautiful organic papers and bath and spa gift baskets. Future additions to their selections will include more diverse items ranging from organic perfumes to resource efficient appliances.
Gibbons has dedicated himself to seeking out more inventory to make The Green Earth Market's selection as complete as possible. He understands that many of his customers have histories of going out of their way to locate hard-to-find environmentally friendly goods, and believes that a major part of The Green Earth Market's draw will be the convenience of one-stop shopping.
"I believe most people do care about the environment, and would act on that concern in their lifestyle and consumer choices if the means were made available, and simply put in front of them," Gibbons explains. "I want to make healthier, more environmentally responsible products readily available to folks, so that it's easier to find those better products and to be an environmentally responsible consumer."
A focus on health and safety plays a significant role in the selection of goods available from The Green Earth Market. Its assortment of organic baby products contains clothes constructed entirely from organically grown cotton because conventional cotton sustains the greatest use of pesticide products of all commercial crops. Gibbons hopes that parents will elect to use his organic baby products in their infants' bedding and consider them as shower presents or unique thank you gifts because it is healthier for babies.
Gibbons' goal is to encourage consumers to make eco-friendly shopping a routine part of an overall more environmentally responsible lifestyle. "People care about the environment, they just haven't made a habit out of supporting it," he says. "Simple acts like recycling, composting and buying things made responsibly from sustainable materials are not the norm in our culture, are not usually convenient and the means have not been put right in front of people. We need to change that."
To browse or purchase from an ever-expanding inventory of environmentally friendly products and unique thank you gifts and Christmas presents, please visit thegreenearthmarket.com.
About The Green Earth Market:
The Green Earth Market opened in 2006 to provide products that are healthy, clean, energy efficient, organically produced, made from recycled or natural materials, and where possible, made in North America. With a firm belief that businesses and consumers should be good stewards of their resources and the wonderful earth God has given them responsibility for, The Green Earth Market aims to satisfy every want and need from one centralized online store.
###