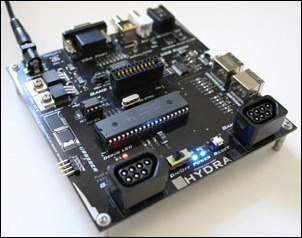 Rocklin, CA (PRWEB) November 20, 2006
If you've ever wanted to become a video game developer, now is your chance. Parallax, Inc. a privately held company located in Rocklin, California has partnered with Nurve Networks LLC and Andre' LaMothe, best-selling game development author, to release a new Propeller powered gaming product, the HYDRA Game Development Kit. With the HYDRA you can develop games, graphics, and media applications.
For beginner to intermediate coders, you need only basic programming experience in any BASIC or C-like language. All of the hardware and software you need is included. Additionally, the HYDRA hardware is covered in detail with schematics, descriptions, dozens of games, demos, and tips allowing you to take full advantage of its resources, including its expansion port and 128K game card.
But it gets even better. The HYDRA kit also comes with Game Programming for the Propeller Powered HYDRA, Andre' LaMothe's latest book. This comprehensive book covers everything you need to know about game programming for the Propeller in Spin and assembly language. All aspects of the Propeller chip are introduced, from its architecture to using the Propeller Tool for programming.
The Propeller chip was released by Parallax, Inc. in April of this year. The chip, designed at the transistor level, uses a new custom-silicon design for simultaneous multi-processing. The Propeller is a 32-bit architecture consisting of eight processors which run at 3.3 V up to 80 MHz. The Propeller is programmed in both a high-level language, called Spin™, and low-level (assembly) language.
The HYDRA Game Console is available at http://www.parallax.com or by calling the Parallax Sales Department at 1-888-512-1024.
###