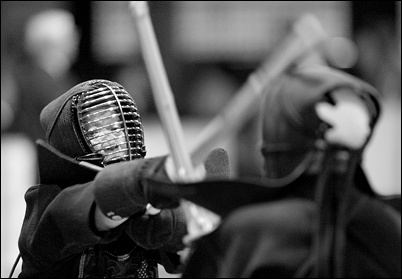 One Chance in the Blink of an Eye
Tokyo, Japan (PRWEB) November 20, 2006
A monochrome work titled "One Chance in the Blink of an Eye" taken by Tokyo based photographer Ron Beaubien (http://www.ronbeaubien.com) was recently awarded the grand prize and 300,000 yen ($2,600 US) in the All Japan Kendo Federation's 10th Kendo Photo Contest.
Taken with a professional digital camera and a powerful telephoto lens, Beaubien's photograph of a kendo practitioner scoring a point by striking his opponent's head was the first black and white photograph to win the top award in the history of the photography contest. Kendo, a traditional Japanese martial art based on the use of the sword, has been gaining popularity around the world as it attempts to become an Olympic sport.
"The real difficulty in photographing kendo practitioners is not just catching the extreme speed at which they strike with their bamboo swords, but focusing on their faces behind the horizontal bars of their protective face masks," Ron Beaubien said. "Capturing the intensity on their faces - the emotion in the eyes - is what is important."
A martial arts practitioner himself, and not satisfied with photographs of kendo he had seen published in magazines, Beaubien, 37, set out to record an image that would evoke the true spirit of the traditional Japanese sport. He took approximately eight thousand images over a period of several years before finally getting the photograph he desired.
"People often see a stunning photograph and mistakenly assume that it was because of the use of an expensive camera," Beaubien said. "However, they seldom realize just how much time and hard work actually goes into making a memorable image."
Approximately 340 photographs were submitted to the annual contest by 129 photographers throughout Japan, which was a 1.6% increase over the number of entries in the previous year's contest. The panel of judges for the 2006 photo contest were: Miyashita Yasuhiro, professor emeritus of Tokyo Art University; Kajiwara Takao, professor of photography at Nihon University; and Okamura Tadanori, executive director of the All Japan Kendo Federation.
Ron Beaubien is a Tokyo based freelance photographer. His images have appeared in numerous books and magazines both in the US and Japan. He is currently working on a personal project to document the classical martial arts of Japan.
A high resolution digital file of the winning photograph is available to the media for print publication upon request.
For more information contact:
Ron Beaubien
Phone/Fax in Japan: 04-2947-5300
Phone/Fax from outside Japan: 81-4-2947-5300
http://www.ronbeaubien.com
###