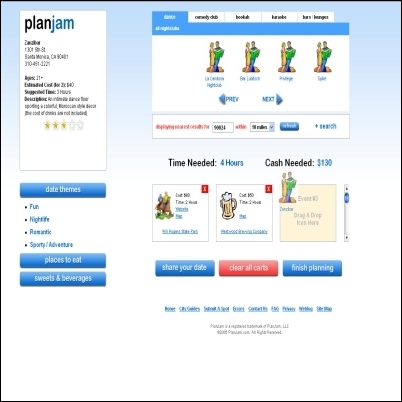 What's your dream date?
Los Angeles, CA (PRWEB) November 28, 2006
PlanJam LLC proudly announces today's re-launch and the addition of several new features to their "social" planning website PlanJam.com. The site was originally launched this past summer, and quickly became a choice online destination for Southern California residents to plan their dates online. Now PlanJam.com has re-designed the service, and expanded into several other areas in California as well as New York. New locations will be added regularly, allowing a greater number of singles and couples to take advantage of the dating and nightlife planning tools available. The service is also turning the dating website industry upside down, by allowing singles to meet based on pre-planned date interests rather than just personal information.
Anyone who has ever visited an online dating site, or discussed the topic of dating, has probably heard the cliché, "What's your dream date?" It's easy enough to know what they like, and even easier for others to try to adapt to that. But PlanJam.com, in its re-launch, is taking a different approach to online dating.
If users want to go on dates with others who enjoy the same things, they don't have to spend hours chatting online just to find out if they have the same things in common. Users can now plan a date online, and then share it publicly or privately with friends. If a single user is interested in finding a date, he/she can look for a pre-planned date that specifically appeals to him/her. The service essentially allows users to match with "dates," rather than only with "people" under the traditional dating site model.
Southern California residents already familiar with PlanJam.com will find an expanded feature set on the site, as well as a clean new design, still utilizing the familiar AJAX / DHTML Web technologies they've become used to. The lack of membership requirements aims at making the process as simple and easy to use as a traditional classifieds-style website. A significant amount of content has been added to the service, making it an even more comprehensive resource for users, new and old alike. PlanJam.com now contains over 40,000 entries for dates and casual day/evening plans, compared to only 5,000 entries on the past incarnation of the site. The site no longer focuses entirely on the Los Angeles area. Its content has now expanded to cover the entire state of New York, and many more regions in California, such as San Francisco, San Diego, and Sacramento. New locations will be added at the approximate rate of one state per month.
About PlanJam.com
PlanJam is a social planning website that revolutionizes the way Internet users search for and plan dates and everyday events. The company was founded with a localized focus on Los Angeles in February 2006 by Eugene Gimelberg and Ron Zvagelsky, two friends who launched the site as a class project for the University of Southern California. The site was re-launched in November 2006, marking the beginning of an expansion to cover regions outside of the Los Angeles area.
For additional information about PlanJam.com or any of the site's social planning features, please visit http://www.planjam.com, or contact Ron Zvagelsky at 310-927-5212.
Contact:
Ron Zvagelsky
Co-Founder
PlanJam, LLC
310-927-5212
###