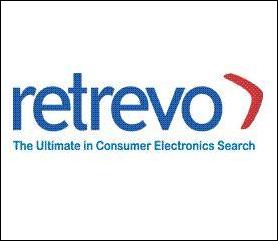 One-stop search for online gadget deals saves holiday shoppers time and money
Sunnyvale, Calif. (PRWEB) November 22, 2006
Retrevo today announced Retrevo Daily Deals, a one-stop, search for finding the best web-only deals on consumer electronics products. Beginning Thursday, November 23, Thanksgiving Day, holiday shoppers can simply search any product or category to find online promotions of a broad range of consumer electronics products on special that day, eliminating the need to check each e-commerce gadget site to compare the day's deals. Retrevo is the first dedicated search engine specifically for gadget geeks to research consumer electronics products, check community buzz, find pre-purchase information and get product documentation for technical support and troubleshooting. Using Retrevo, gadget lovers will find complete coverage for twelve categories, including cell phones, smartphones, cameras, camcorders, home audio and home video, portable audio and portable video, printers and wireless networking (WiFi).
"One-stop search for online gadget deals saves holiday shoppers time and money," said Vipin Jain, founder and CEO of Retrevo. "We are launching Retrevo Daily Deals on Thanksgiving Day to help holiday shoppers get a headstart on the traditional "black Friday" shopping day. With the rollout of Retrevo Daily Deals, gadget lovers and holiday shoppers can begin their comparison shopping tomorrow, and find the most competitively-priced products quickly. We are continually updating our site and look forward to rolling out additional functionality to benefit gadget lovers and general consumers over the next few months."
Retrevo uses proprietary algorithms to crawl, collect, analyze and classify all known information for consumer electronics products. The company's machine learning technology performs deep content analysis, classification and retrieval, so consumers get the right answers right away.
About Retrevo
Retrevo is an early stage startup backed by Alloy Ventures and based in Sunnyvale, CA. It is the first of its kind in the field of vertical search and deep content retrieval. Currently offering a public trial, retrevo.com is a destination for consumers to research, install, use, or fix their electronic products.
For more information contact:
Matthew Stotts
matthew (at) retrevo (dot) com
Phone # 408-524-1592
###