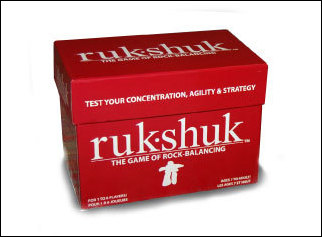 RUKSHUK™ was a very strong seller throughout the spring, summer and fall this year demonstrating the product's ability to sell well in any season
Toronto, Canada (PRWEB) November 28, 2006
After a booming start to the holiday shopping season, RUKSHUK™ - 'The Game of Rock Balancing' is giving every indication it could be the next blockbuster game for Canadian toy stores, and RUKSHUK™ manufacturer Toronto-based Zabazoo Games is doing all it can to keep pace with the breakneck pace of sales.
"Stores are selling up to 36 RUKSHUK™ games per week. That is remarkable for the first half of November and we only expect it to accelerate as the holiday season progresses," says Malcolm Bisiker, creator of RUKSHUK™.
According to the company the prospects for RUKSHUK™ appeared bright early on as sales were exceptional from the moment the game debuted in spring 2006.
"RUKSHUK™ was a very strong seller throughout the spring, summer and fall this year demonstrating the product's ability to sell well in any season," said Bisiker.
Designed and made in Canada, RUKSHUK™ - 'The Game of Rock Balancing' is a brand new concept in board games combining the skillful act of rock-balancing with point-scoring strategy in a fun and easy-to-learn all-ages family or party game.
Players race against the clock to build different RUKSHUK™ rock formations by balancing specially designed game rocks. If a formation topples, it must be rebuilt quickly before time runs out. Regular and bonus points are scored for rocks standing at the end of the time limit. The player with the highest score wins. Game formations are named for real, natural rock formations around the planet in an attempt to promote awareness about the planet's natural beauty.
RUKSHUK™ was recently named to the Today's Parent "2006 Latest & Greatest Toys" list, The Neighborhood Toy Stores of Canada "2006 Latest & Greatest Toys" list, and was the number one gift recommendation for teenagers by Canadian Living magazine.
RUKSHUK™ is available in toy, game and gift stores across Canada, select locations in the U.S.A., and online at http://www.rukshuk.com.
For more information about RUKSHUK™, please contact:
Malcolm Bisiker, CFA
Zabazoo Corporation
Ph: (416) 899-4606
Fx: (416) 413-7990
###